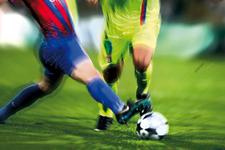 With 5 points from the first round of games, OL can quite easily expect to take one of the two top spots in the group F. They cannot, however, afford to drop any points against Steaua…
3 more points would put the French champions in a strong position in the group, getting them a step closer to a sixth qualification in a row for the last 16 of the Champions League. The scenario of the match in Bucharest places OL way above a Steaua who have not won in over 8 games. If OL's attacking prowess can be linked up with their new found defensive solidity, the match is as good as won!

But you just never know. Steaua have a new coach and proved against Dinamo that they can pick themselves up. « The model » Arthuro is now gone, the Greek Kapetanos is back, and they will most certainly have a different philosophy of play with Munteanu having taken the place of Lacatus in the hotseat. This side can also be very dangerous from set pieces … Nicolita leading the way and trying to find the giant Goian.

OL are favourites though. Their tandem Benzema-Juninho will have an influence on the match, as they have done over the last 15 months. Will Claude Puel abandon his standard 4-4-3 formation for this European game? Not sure despite what they have showbn in the League with one less player in the midfield. Lloris and his cohorts haven't made life easy for themselves during the first three games. Twice they have had to cghase the match, against Fiorentina and Steaua, and they had to fight to the death to hold onto a draw at the Allianz Arena against Bayern. If they could avoid « having to do too much », it would stop their supporters developing cold sweats! On the other hand, nobody would be averse to seeing a spectacular display that this OL side is more than capable of. Let's just hope that the French League leaders have learnt from their first three games, and have found a solution to their weakness in the air . All six goals came from the air, whether it be from open play or from set pieces! Cris, Boumsong, Grosso, Lloris et al please stand up and be counted and defend well.

This return round of games looks like a turning point towards the Spring and all it holds. This is not the moment stamp all over headily perfumed path.