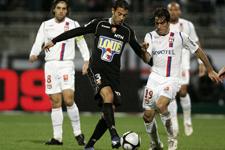 Read all the reactions from the Lyon camp after the victory over Le Mans.
Karim Benzema
"We must win at Gerland and I'm very happy to have opened the scoring. We kept the same mentality as we had against Sochaux with a solid defensive block and we remained focused right to the end of the match. Marseille and Toulouse won this weekend, Bordeaux dropped some points, but none of these sides will give up easily. Even if we aren't looking over our shoulders, we have to remain as focused as we were this evening. Our sole objective is to win. When we play as we did tonight it's difficult for teams to pay against us."

Lamine Gassama
"It was fantastic to be in the starting line-up for a match at Gerland. My whole family was present so it was a really big occasion for me. The main thing is that we won the game and didn't concede any goals. The pitch was slippery but that doesn't bother me, on the contrary I prefer it like that, especially for tackling..."

Jean-Michel Aulas
"The performance was doubly satisfying.. On one hand there is the result, on the other we didn't concede a goal for the third match in a row. I think this was the best match at Gerland so far this season, despite the fact that pitch was hard to play on because of the rain. We saw a great performance from OL who were technically head and shoulders above Le Mans."

Hugo Lloris
"I'm pleased with the performance of the team. It was really a match that we had to win, we didn't conceded and that's a good thing. We eased up in the second half but still didn't let them have any chances. On the whole, we put in a complete performance from start to finish. Conditions weren't fantastic tonight but it's a good win for us. It's good for our morale and confidence. Now we have to focus on the Champions League and Wednesday's game against Steaua. It's a very important match and we have to take all 3 points."

Jean-Alain Boumsong
"We put in a solid performance and were consistent throughout the match, we were in control and that is the main satisfaction of the evening. It's good for us in view of the game on Wednesday, we managed to get forward quickly and defended well. We often had possession of the ball and kept it well making them do the running, I'm very happy with how we played. Karim Benzema's goal was fantastic, I hope he scores one like that on Wednesday, but i twas really a great goal, that's where you see the difference between a striker and a defender, I couldn't score a goal like that. We cannot focus on the League standings for the moment, we must concentrate on each game, everything is going well, we know there will be periods during which we will play less well and it's at that moment that we will have to pull our sleeves up."

Claude Puel
"We got through the game against Le Mans very well, it's never easy to prepare for a match when you are playing every three days. It's important not to put ourselves in difficulty, to start of well, impose our style and not be chasing the game, that was the case tonight. We were good all over the field, we put in a good performance against a side that, it has to be said, didn't push us too much and that we kept out of the match. It was a job well done. Slowly but surely things are starting to come more naturally. We've been working since the start of the season, but have had international breaks that make you lose a certain amount of automatisms. The players themselves saw after the match against Sochaux, that if everyone puts in the same amount of work, we make less effort and keep some gas in the tank. I like to keep the players adaptable and like to try different formations, it makes the squad better. We have a big squad and it's never easy to give everyone enough playing time to show what they can do, Delgado has taken his chance. He deserved to be in the starting 11 tonight. Now we have to take each match as it comes and always have the best possible team on the field. We have to learn how to deal with matches every three days, to be able to recuperate is very important. We need to not get carried away when we have good results and not to allow poor ones to get us down. It's something that needs to be learnt, it's something that the young players will discover. The match against Bucharest on Wednesday will be difficult, the fact that they have a new coach will give them a boost and the fact that we won over there does not mean that the game at Gerland will be a walk in the park."