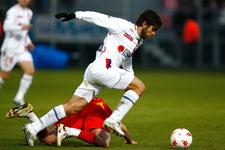 After their success over Sochaux, OL will be expected to carry on and win on Sunday night at home to a surprising Le Mans side who are still unbeaten on the road...
Who doesn't know the OL song of the last few seasons … This song, where the chorus speaks of the ambition to keep on winning ! 4 days after the 3 points taken against Sochaux and 3 before the match at home to Steaua, OL get back to work . In these conditions there is no time to get out onto the training field at Tola Vologe, just a quick session on Saturday afternoon to sort out a few details.

These intensive moments in the season mean that Claude Puel must be more vigilant. He needs to be careful about the amount of time spent on the field by each player and the absences. Pjanic is in a treatment room that Lloris, Juninho, Ederson have just left. With all that has gone on, what kind of midfield can we expect ? With 2 or 3 players? Who will be playing on the wings ? Gassama, will he be in the starting line-up again? A multitude of questions,amongst many others …

The opposition, Le Mans arrive at the Stade de Gerland without having suffered the slightest defeat in the League. They have scored 13 goals in 5 games away from home, they also are the most realistic side in the League with 1 goal from every six shots . There squad, which has been changed since last season, has great possibilities to take advantage of the slightest counter attack, of the slightest error committed by their opponents. Gervinho caused OL a lot of problems last season with his speed and technique; Maïga has shown what he can do; and their 2 Norwegians, seem to be quite skilled. They will also be looking to make up for their slip up against Auxerre in order to stay at the top end of the table. The midfielder Coutadeur, a key member of the side, is back and will bring his work rate and lucidity.

Le Mans will also have in mind the fact that they have never won in Lyon: 5 games for as many defeats and 16 goals conceded, including an amazing 8 - 1 in 2005-2006. During this game, Pelé was taken off by his coach Hantz after ½ an hour and Roche, his successor, could do nothing to prevent the score getting worse. Pelé has gotten better since then. A goalkeeper, for the anecdote, that « Juni » has never scored past .

The scene is set for a match between a team that are very occupied at the moment and a side, not involved in Europe and already out of the Coupe de la Ligue; between the top side in France of the last 7 years, an important member of the continental scene and a young group who have consistently progressed in all sectors throughout their existence. This promises to be quite a game , with the hope that the conditions will be on par with the pleasure that three extra points would give to Lyon.