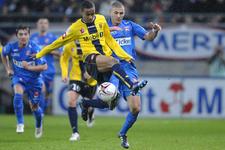 Read all the reactions from the OL squad and staff after the win over Sochaux.
Karim Benzema
"We put in a good performance, despite the poor playing surface and the rain. It was difficult as we were up against a very good Sochaux side. They caused us a lot of problems but we remained concentrated and our defensive play was very good. We didn't concede and managed to score two, so everything is great. In the first half I missed two good chances so I had to make up for that as we really needed this victory. In the second half I scored a lovely goal, but I'm happier with the win as it does us the world of good."

Jean-Michel Aulas
"This is a satisfying win, as it was a game that was a lot more difficult than it appeared to be. OL put in a very good match. It's strange, we really should have taken the advantage in the first half but only managed to do so in the second. The injuries to Miralem Pjanic and Fabio Grosso are worrying. They will have scans tonight, or tomorrow, but it doesn't look good."

Anthony Réveillère
"We managed to create a lot of chances in the first half as we kept them penned in high up the field. We closed them down as a team, which we didn't do against Auxerre. We recuperated the ball quite far up the field, even if the state of the pitch didn't make things very easy. I play where I'm told to play. I had to block the left wing, along with Lamine (Gassama), if he went forward I took his place, etc. The coach has confidence in us but he his expecting us to work things out ourselves, I think we managed that. I'm really happy for Chelito Delgado as things haven't always been easy for him. He scored tonight, but you also have to look at the way he played and how he was always available for the team."

Cesar Delgado
"I'm very happy to have scored tonight, but more than anything it is the support from my team-mates and the staff that makes me feel good. Even if I haven't played very much so far, in my head I was always ready to give my all for Olympique Lyonnais."

Jérémy Toulalan
"Karim is full of talent and he managed to turn the game. Afterwards things were a lot easier for us. On the whole, I think we were solid tonight. We started off well, which hasn't always been the case. We can always better the style, but the win has done us a lot of good."

Jean-Alain Boumsong
"The most important thing is to win games. We played well as a unit and conceded very few chances. We found the right balance between our attacking and defensive play. On the whole I think we deserved this victory. There are still a lot of things to work on but the essential is that we win games. We have to use the positive energy that comes from a victory. It's a lot easier to recuperate physically when you have won."