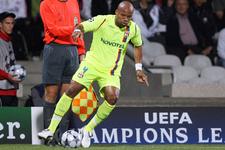 Jean-Alain Boumsong, who started the last two matches in the centre of defence, looks back on OL's current form and remains confident for the future.
OL haven't won for over a month (27th of September, victory over Nancy, 2-1) Things are starting to drag on …
Yes, but things will change. We are not too worried for the moment, even if we know that we have to start taking points he we want to achieve our main objective, by that I mean winning an 8th title. But as I said, things will change and we aren't worried. I'm not, in any case, even if we have to recognise that things aren't perfect at the moment.

What is the atmosphere like in the OL dressing room?
I'm fine. I have been criticised, so has the squad... it's part of the game. In any case, we have to be able to be critical of ourselves and single out what we have to work on. We know we aren't in top form at the moment, but through experience I know that in any season there is alwys a period when you play less well. We are going through that period now. It's not catastrophic just yet but we have to turn things around and to do so, we have to work in order to build up our confidence and serenity. The results will then come all by themselves. In general, when results aren't going well, players have a tendance to be individualistic. Everyone tries to avoid being labelled as the guilty party. It would be an error to have that type of attitude. It wouldn't be the right way to get our form back, we have to stay united.

Why is the defence not playing to their full potential at the moment? Are they being destabilised by the criticism they are attracting?
When you concede goals, you can always criticise the defence. That is the case at the moment, but I want to take things further. I think, without trying to avoid the question, that it is as a squad that we can better our defensive play and our offensive play for that matter. It always has to come from teamwork though.

Does that mean the forwards have to put in more effort to come back and defend?
You cannot ask a forward to defend like a defender would. In order to defend well as a team, the forward needs to put in the first defensive work, then the defender shave to come into action. When we are in a match and are having trouble scoring, away from home for example, the defenders have to be strong and then try and bring something to the attacking side of play, scoring more from free kicks.

Do you think that a victory is imperative against Sochaux on Wednesday?
We need to win, we need points to get things going as well as they were at the start of the season. There's no use hiding, we are going to Sochaux to take all three points. It will be difficult though, as I feel that they are not at their place, and can play better than they have been. They are a good side, haven't changed their squad too much, last year their second half of the season was excellent. This year they have started of poorly, but have the skill to climb back up the table. It's going to be a difficult match.