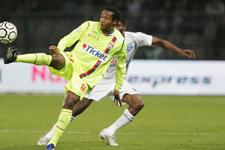 Read all the reactions from the OL squad after the draw against Auxerre.
Claude Puel
It was a difficult game and I think we were a little too timid in the first half. We had one great chance in the second half through Karim (Benzema) but we weren't able to finish it off. We didn't get ourselves forward enough to give Karim the support he needed. I'm not looking for any excuses but it was an away match and looking at how it went we are happy with a point. All our games are difficult, you have to be capable of playing a match every three days. We are going to Sochaux in 3 days time and we'll have to be strong there. This is a tough League and every point is very important, we have to keep that in mind and continue fighting.

Fabio Grosso
It's a good point from a difficult match. We didn't conced any goals which is positive. We could have perhaps done better but we're happy with this point. It's now three games in a row in the League that we haven't won, we'll be doing all we can to change that on Wednesday.

Jérémy Toulalan
Fatigue could be an excuse. I think we started off the match poorly and just couldn't get back into it well enough. We were too stretched out on the pitch. What we have to keep in mind is that even in difficulty we managed to get a point out of the game. Their forwards were a little unlucky in front of goal, which is a good thing for us.

Jean-Alain Boumsong
We have to admit that we were knocked around by tjhis side.Even if we cannot be satisfied with a draw against Auxerre when we play for OL, it's still a point that will count for something come the end of the season. We're not doing too well at the moment but we're not worried yet.

Miralem Pjanic
It was difficult as there was a solid defensive block in front of us. Teams are always doubly motivated when they play against OL. Each away match is difficult as they are waiting for us, and play the match of their season.

Ederson
I think it's a point that will come in handy at the end of the season. We had trouble with our final gestures and finishing. We were quite tired and that's maybe why we lacked a certain amount of lucidity up front at times. I slipped during the first half and hurt my ankle, but it's nothing serious.