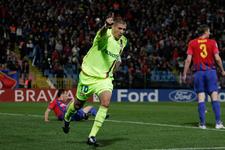 On the pitch of the Ghencea Stadium, OL have maybe won their most important victory so far this season. Itr was definitely the most spectacular, in any case.
Even if it isn't sure that the generous score line will make Claude Puel completely happy, this latter, who went through every emotion during this crazy game, can be content: if OL beat Steaua, in two weeks time at Gerland, the French champions will be guaranteed a place in at least the UEFA Cup next spring … all the while hoping for better.

To all of those who worried we would be bored with the solidity of the OL defence at the start of the season, Lyon week in week out reply in not always a rational nor encouraging manner, but what we see is quite spectacular. The last examples: in the space of three days, against Lille and Steaua, OL have scored 7 goals, conceded 5, and Fred has just made things more surreal : whistled during the game against Lille, the Brazilian, tonight, scored two goals and got his side back into the match.

Even with the euphoria of this high scoring game still in mind, we cannot forget just how precious the points taken from this game in the Romanian capital are. In the space of two minutes, OL went from nothing to everything, from zero to all three points, won the match that they had to win and opened up the road to the quarter finals.

OL scared themselves but once again showed that they were not lacking in character, it's not something that you can work on, you either have it or you don't and it allows you to do great things. However they also showed that they have problems dealing with their slow periods during games and confirmed their annoying habit of shooting themselves in the foot; over the last month they have been more reactive than proactive. For the model game, they will have to wait. The OL defence once again proved to be less than solid.And on a second consecutive occasion, non-existent at set pieces. How can anyone explain these terrible starts to matches? Just as they did against Nice, Fiorentina and Lille, OL just weren't there from the kick-off, conceding two goals one after the other from Arthuro (1 - 0, 8') and Goian (2 - 0, 11'). But at the end of the day they scored more than they conceded and that is what is important.

After this poor start, it needed something special to get them back on track. After being played in by Jean II Makoun, Kader Keita, who was non-existent against Lille, fired in a volley that flew into the top corner of Zapata's goal (2 - 1, 23'). The combat was changing. Dragged on by a completely changed Kader Keita, OL started winning the majority if their duels. Keita forced Zapata into an acrobatic save, then was unable to hit the target when all alone at the back post (30').

OL seemed to have the wind in their sails, while the Romanian vice-champions did not stop dropping back. OL then suddenly got themselves back into the game, refound their ability, got themselves back to level that should have been theirs anyway looking at the performance of Lacatus's players. For over a month, Fabio Grosso's ears must have been ringing, the absence of the Italian often being cited as the reason for OL's troubles. The quality of his crossing is definitely important. From one of them, Karim Benzema equalised with a header (2 - 2, 33'). OL were in control and looked to be heading for their first win of the season. Nothing looked like stopping them, even though they were slowed down by another terrible error. From a Nicolita corner, Petre got in front of Makoun and scored a header (3 - 2, 45'). But in no way did Steaua look capable of holding onto their lead throughout the next half.

During the following 45 minutes, Lloris was only called into action on two occasions, two headed efforts from Goian (58') and… Anthony Réveillère (82'). The rest of the half was an OL siege around the goal of Zapata. Ederson was unable to hit the target (47') and the Romanian keeper pushed away an effort from Benzema (49'). Then everything changed. Fred, who had just come on a minute earlier equalised with a powerful shot (3 - 3, 69') before Juninho dropped a free-kick onto the head of Benzema for the French internationals third goal in the Champions League (3 - 4, 71'). In stoppage time, Fred rounded off a strange evening by scoring his second of the match (90'). Mounier then came very close to scoring his first senior goal for OL (92'). The two teams will fight it out again, in two weeks at Gerland.