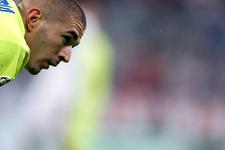 The current situation in group F after two matches leads us to thinkthat the final standings will be very tight. With this in mind, OL would be well inspired to bring back at least 1 point from Bucharest, so as not to put themselves in too much danger before the return round of games...
It would be too complicated to start trying to guess how many points will be necessary to make it out of this group and into the last 16 of the competition. All four teams will be finishing off the first round of games with the same hope of obtaining the precious pass. If Bayern seem to be well on their way, the other three teams know that they are lagging behind.

Steaua have no other choice, they must win in order to continue hoping. There is a great deal of solidarity in the group managed by Lacatus. Certainly, they have still not scored, despite the multitude of chances they carved out against Bayern, but on the other hand they have only conceded one goal. The Romanian side is out of luck at the moment: they have not won a match since the 21st of September, in other words 5 games without victory (3 draws & 2 defeats).

OL pretty much clawed back, in Munich, the two points they dropped at home to Fiorentina. 2 points from 2 matches is, however, two points more than they had at the same stage last year. To avoid a nervy return round of matches, the seven times French champions would put in minimum service with a draw , but would take a great step forward if they brought back all 3 points from Romania.

On paper, OL have a stronger squad than that of a Steaua side that they hammered two years ago. Even without Mensah, Bodmer, Govou, Fabio Santos and Clerc out injured, they know that they can count on numerous different solutions as far as formations are concerned and a strong bench of midfielders and forwards, which is not necessarily the case of their hosts, who have a much more international flavour to them compared to 2006. Even without having completely convinced anybody over the course of the 12 official matches played so far this season, as the game against Lille last Saturday proved once again.

By avoiding any slip ups that would help Bayern and Fiorentina; by avoiding having to chase the match, we can imagine that they should be victorious come the final whistle. And OL have gone three games without a win (1 defeat & 2 draws)… an eternity! Romanians and Lyon players have a lot of reasons to give all they have in order to make the difference in this 3rd match in group F, which makes us think that these 90 minutes will not be a walk in the park .