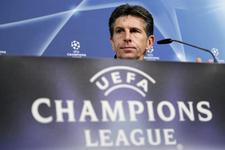 Traffic jams caused a 15 minute delay to the traditional OL press conference. Claude Puel was accompanied by Jean II Makoun and both answered questions from the gathered Press.
Jean II Makoun

Are you feeling the pressure before the third match in this year's Champions League?
« This game is important, just like all the others. We have to get a result from this match in Holland. A draw? All points are important, we just have to make sure we don't lose. »

Do you know anything about this Steaua side?
« No, not a lot really. We've seen some highlights of their recent performances. They are a side that puts everything into their performances. They are a quality team, we will have to be careful. »

Is this a chance for you to sort out the defensive problems? « We started off the season well in that domain, we've had problems since because of players being out. I hope we'll be able to sort things out and get rid of our problems against Steaua. »


---
[IMG43477#R]Claude Puel

Are you scard of losing?
« No. Being « scared of losing » doesn't mean anything. We know enough about Steaua to know that we will have to be vigilant. They play good football and are well organised. They deserved a lot more from their second half performance against Bayern and matched Fiorentina as well. The group F is a very well balanced group and that is being proven with every game. »

Are Olympique Lyonnais favourites?
There is no favourite. The four sides are well matched. We have to take points where we can get them. We're coming here to win and we'll see what we leave with.

Do Steaua have an advantage as they had an extra day to recuperate?
It's clear that we would have appreciated an extra day's rest. That's just how it goes and we have to deal with it.

Can the match against Steaua be synonymous of a new start for the OL defence?
Let's just stop talking about the defence. The problems we have are problems which regard the entire squad.
We have players missing, but I have a quality squad. Let's just play our game. Injuries are part and parcel of a season. The guys out on the field will want to show what they can do.