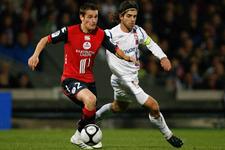 Reactions from OL players and staff after the draw against Lille.
Claude Puel
"We didn't start off the match badly, as Lille were solid and well placed with the characteristics we know they have. I knew what we were up against and I want to congratulate my players for not letting go, even when they twice had to come from behind. We could be picky and say that we only took oner point from this home game, but we are satisfied with this point as we had to put in a lot of effort to get it. The team showed character and that is important. We took a lot of knocks in the first twenty minutes. The second part of the first half was more interesting with some good movement. I don't often talk about referee's, but there were some bad judgements in the opening minutes. There are some things I cannot accept."

Jean II Makoun
"It was quite special seeing some friends with whom I was a team-mate just 6 months ago, but once I was out on the field I'd forgotten all about it. Lille are a solid team, they really get stuck in and are strong in duels. I think the result is right as we were up against a very strong team. We are conceding a lot of goals at the moment and when we are behind we have to put in a lot more effort to get back into games."

Jean-Michel Aulas
"It would have been a shame to lose my 1000th match at the head of OL. I'm a little bit disappointed. We should have had a penalty but it was overlooked, but what I regret the most is the number of attacks suffered by my players. It doesn't take anything away from the performance of Lille, but the referee did not protect the physical integrity of the players. The referee did not respect the spirit of the game and lost control of the match by letting Lille get away with everything."

Hugo Lloris
"Lille are a good side who defend well. They really got into to us right from the start and even though we'd been warned we had trouble dealing with them. But we should not forget the team spirit we showed this evening. Not every team can get back into a game after being behind on two occasions. It shows the mental strength of the side. There are always things to be worked on when you concede two goals at home, but we have to take the positives out of the match. Things went really quickly from his (Michel Bastos) free kick, he hit it really well, the ball moved a lot in the air and was difficult to judge. It was a great free kick, even if I think I maybe could have saved it."