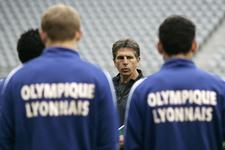 What shape were your international players in when they came back?
Not too bad. Jérémy Toulalan (who is suspended for the game against Lille) got back into training today. Everyone else is apt, even if Karim Benzema took a knock to his ankle as did Miralem Pjanic. Anthony Mounier has a slight problem as well.

Do you think the recuperation period between the games against Lille and Bucharest (3 days) is sufficient?
It will be tight as the period is so short, and we need to be in form for both matches.

Do you feel that nothing is done in France, in this domain, to help the clubs succeed in Europe?
There is not much help in any case. At the moment we're playing a Champions League game three days after a League match. We have two important games coming up in the Champions League (against Steaua Bucharest) with not much time to recuperate between each game (the match against Le Mans will take place on Sunday November 2nd at 21h00, just 3 days before the home game against Steaua Bucharest), we have to juggle things around. We have a squad built for it, it's up to us to be prepared. All the players need to be involved. We will not be playing our entire season with 11 players. I'm adamant; all the players have to feel concerned. That's very important with these crazy schedules of a game every three days. We have to be able to count on the full squad. We have to be performant whichever players are in the starting line-up. It's only in this way that we will be able to go as far as we can in each competition.

You must be relieved that Fabio Grosso is back?
It's good that he can play again, it was important for us to get him back, but it would be the same for any other injured player. We just have to see where he is in regards of his match fitness.

On a personal level, is the match special (Claude Puel was coach of Lille for 6 seasons)?
Matches between OL and Lille are always special. I think it will be the same on Saturday. It's going to be a difficult game and it will be tough to predict the outcome. The objective for us will be to impose our style on the game. Obviously Lille are a side that I know pretty well, they are well marshalled and annoying to play against (laughs). Over the course of their last few matches they haven't given away many chances to their opponents. If I did manage to start a few careers then it's a good thing, but it is my job to do that as well. I don't regret anything.

Could the match against Lille be a potential banana skin?
The banana skin was against Rennes (0 – 3), not against Lille as we all know the qualities of this side. They have a lot of character and potential. There will be no surprises, what could influence the game is that it comes after a two week break. You never really know what shape the players are in. The group was effectively split up, we have to get them back together again; it's not easy. What will be important for the two games we have coming up is the team spirit. It's a new start, and new starts are never easy.