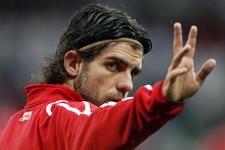 The Lyon captain Juninho tackles the big issues surrounding the French champions: the loss to Rennes, the upcoming clash with Lille, his positioning on the field and even the mooted player strike...
The rout against Rennes
It was normal that we lost as we messed up our football completely. The whole team was just not there mentally and there was also a certain lack of concentration. After bringing home a draw from Munich, we just weren't able to motivate ourselves for the French League. On the other hand, we came up against a very good Rennes side. Rennes stamped their authority on the game. What is worse is that we weren't really able to analyse the defeat as a lot of the side went off on international duty straight away. Now all we want to do is prove that the game against Rennes was an accident.

The match against Lille
We need to get a result from this home game against Lille, we must take all three points so that we can keep some distance between us and the chasing pack. In front of our fans we have to do all we can in order to win, even if this match is special for a lot of the squad. Claude Puel did a lot for Lille. He helped them progress by taking them into the Champions League. We've often had trouble against them. I don't know if we have an advantage, Claude Puel knows them well, but they know our coach very well too.

October
This match against Lille will be our only home game this month. Afterwards we'll have three away games in a row: a trip to Bucharest in the Champions League then away to Auxerre and Sochaux in the League. We have to start off this run of games with a victory against Lille and if possible not concede any goals. To do that we will have to stay concentrated as we have been conceding a lot of goals at home.

The Juninho system
I hear all the time that the system is made for me. There is no Juninho system. I don't think we play a 4-3-3 formation just for me. In the past I've played in a 4-4-2, I don't see why I couldn't do that again. I just want to have fun this season, be there for the team and play in as many games as possible. No player is untouchable though.

Steaua Bucharest
The trip to Romania wil not be an easy one. You just have to look at the difficulties the French national team had there on Saturday. Steaua have to win if they want to qualify. Ideally we'd like to win in Bucharest, but if we come back with a point in won't necessarily be a bad result. Afterwards we'll have two more games at home through which we can qualify and I think that 9 points may be enough to get through to the last 16.

The potential strike on the 26th of October

It's a little difficult to speak of a strike as it is the club that pays our salaries. We also have a lot of respect for the supporters who come to see the games. You also have to remember that the calendar is tight up until the end of the year.

I have to say though that we aren't just fighting for the League 1, but also for League 2 and the National. I really hope things can be sorted out and we don't end up with a strike.

OL Women's side
I've been following their performances on the television. Lyon have a top level side and they are technically very strong. Last year they came close to the final. There is no denying their passion for football sometimes even more so than the men. They play with their hearts.