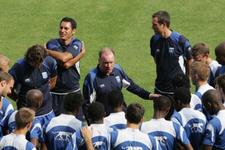 Before the return to the League campaign this weekend, there are still 53 players who have taken part in every minute of every match...Auxerre lead the table with 6 players having done so...
53 players including 15 goalkeepers have played every minute of all 8 games so far in the League. Auxerre, Jean Fernandez's team have 6 players who have not missed a single minute of play. 6 players including their entire defensive line-up: Riou – Hengbart, Coulibaly, Grichting, Mignot. The captain Pedretti closes the list.

OM (Mandanda, Taiwo, Bonnart, Hilton), Nice (Rémy, Letizi, Hellebuyck, Diakité), PSG (Landreau, Ceara, Armand, Camara) follow with 4 players. Then Caen, Grenoble, Le Havre, Lorient, l'OL, Nancy, Rennes, Toulouse with 3 of their squad. Valenciennes, Saint-Etienne, Lille, Le Mans with 2. Bordeaux (Diawara) and Monaco (Modesto) have only 1. As for Sochaux, they no longer have any players in their squad who have taken part in the entire eight games.

Amonst these 53 players, Sorbon, Audard, Bracigliano, Camara and Landreau played every minute of the 38 matches which made up the 2007-2008 season.