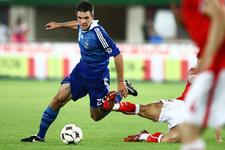 8 Lyon players were on international duty this weekend, playing in the qualifying matches for the 2010 World Cup in the European and African groups.
[IMG41392#L]Amongst the OL players in the France squad, Jean-Alain Boumsong, who replaced William Gallas, injured, at the last minute played the full 90 minutes against Romania (2-2) in the centre of defence, as did Jérémy Toulalan, who put in a good performance in the centre of midfield. Karim Benzema, came on just before half time and played for 53 minutes. He did not really have the opportunity to show what he is capable of doing. Hugo Lloris did not play any part in the match. The OL keeper yesterday linked up with the under 21 side for their Euro 2009 qualification game against Germany on Wednesday night, in Metz. In the first leg match the French youngsters played out a draw (1-1).

[IMG41391#L]The Swede Kim Källström played the entire match for his country against Portugal (0-0).

[IMG43391#L]Miralem Pjanic played a few minutes with the Bosnian national side. Coming on in the 81st minute, he was unable to stop his team losing away to Turkey (2-1).

[IMG43392#L]OL's African players were also on international duty this week-end. Jean II Makoun took part in Cameroons large victory over Mauritius (5-0). The midfielder played the full match, even popping up to score his side's fourth goal (71st minute).

[IMG43474#L]As for the defender John Mensah, the Ghanaian contributed to his country's victory over Lesotho (3-0) and was present throughout the full 90 minutes of the match.

These 8 players are due back in Lyon in the middle of the week.