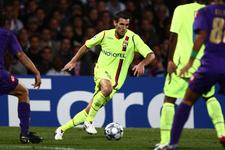 OL's right back speaks about his current form and about the important events which OL will be facing in the next few months.
Is the two week international break doing you good?
Yes, it's quite a long break so we can really recharge our batteries. Training is fun, even if we are doing a lot of fitness work. The break came around at the right time, as from next weekend we are going into a run of important games.

Does it help you mentally as well?
Yes, even if it is preferable to win your last match before the break. We didn't manage that this time around (defeat away to Rennes 0 – 3) but the defeat is behind us now and we are focusing on our next match (against Lille). We have to get off on the right foot. For the moment we are training and having fun.

Looking back, how would you analyse the defeat to Rennes?
We could have continued playing for hours and not scored. We didn't let them have a lot of chances but conceded goals as we have done in recent games, we paid the price and have to accept it. As a team we just weren't in the match.

[IMG43473#R] François Clerc's injury has given you a run in the team. How is this period for you?
I'm playing so I'm not unhappy. When you play every three days, recuperation is important so that you can stay as fresh as possible. I don't feel untouchable though; there are other players in the squad, like Boumsong, who can play on the right. In each match you have to be in good form and give your best. At the moment I'm feeling good and my performances are getting better and better.

Will the return of Fabio Grosso help out?
He's a left back and it hasn't been easy these last few weeks for John Mensah or Kim Källström who aren't used to playing in that position. Having a left sided player like him back will be good for the team and for the whole group. This break has come at a good time for him.

Have you seen the images of your foul on Jimmy Briand?
No, I just saw a photograph. I'd knocked the ball a little too far, he bumped into me and got ahead ; I tried to take the ball and not commit a foul. I was annoyed as I felt he had fouled me. I wanted to jump over him and pass inside to get the ball but I just took everything. I climbed up on him more than tackling him from behind. It was quite impressive, a bit like kung-fu ; it seemed that we were back in the «Di Meco years » but it wasn't deliberate. I saw Jimmy Briand after the match and told him that; he knows me and said there was no problem. I got off lightly as I could have gotten a red card for it.

What do you think about OL's start to the season in the League?
It's been good. We had a six point advantage before the game against Rennes. Now we only have two. With three points for a win, things can change quickly. We can't sit back and relax. It's up to us to react at home against Lille (9th round of games, Saturday October 18th, 21h00). What is important for us is to stay in first place, like that we can just keep looking forward.

[IMG43472#L]Are you surprised by Toulouse (2e) a side you beat easily at the start of the season (3 – 0)?
No, they are a team that fight to the end of each match, the goal from Gignac against Valenciennes is proof of this. You have to know how to get points from difficult situations. They fought hard not to go down last season and don't want to go through the same situation. They know that it is important to start of the season well.

In the Champions League, will the two matches against Bucharest be decisive in the race for qualification?
The group is very tight, the two games against Steaua (Tuesday October 21 in Bucharest and Wednesday November 5 at Gerland) will be important. Don't forget that last season we were in the same situation before the games against Stuttgart, and we succeeded. First of all we have to concentrate on the match against Lille so we aren't distracted and don't mess up the game.