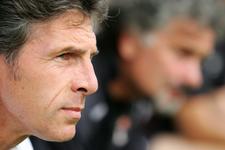 Four days after the heavy defeat away to Rennes, Claude Puel refuses to « question everything ». « A slap like that can sometimes help, he states. It allows us to put things into perspective. »
What will you be doing during this first week of the international break?
Some of the players are away with their national sides, others like the youngsters Gassama or Kolodziejczak will be playing with the CFA side who have two games coming up (away to Ajaccio on Saturday and Jura-Sud, on Wednesday). This afternoon the group will be back doing physical work with some jogging.

How has the squad reacted after the slap that they received against Rennes (0 – 3)?
We aren't concentrating on it but it is often interesting to go through such a period. We would have preferred to avoid it but a game like this allows us to put things into perspective, it also puts a stop to what was being said about the League: that it was already over etc. A thrashing like that is never enjoyable but can help. The players were very objective when they spoke to the press, nobody tried to hide. That's a good thing, we'll discuss it again when the we have a full squad. We just have to do what we have to do without worrying too much about what is said or written. We don't have a huge advantage and when you aren't at 100% in the preparation of a match you have to pay for it. We can be our own worst enemy. The question is, can we put in regular solid performances and ask questions of ourselves after each game. We have to go our own way; Lyon must impose their style of play at home and away.

Is this a bad time to be on an international break?
We have mature players, who understands the requirements of the job. We aren't going to be making wholesale changes right now and these players know this.

Toulouse are second in the League. What do you think of this side?
The League campaign is a long distance race. When a group is confident you never know what can happen. I think the other teams who were spoken of at the start of the season who have more potential as well as Rennes, Lille or Saint-Etienne are more likely to do something. The League will change plenty of times. Winning a match, be it at home or away is not easy, even for Lyon.

Do you regret to not have recruited an extra left back?
I always said that if a player was to join us they would have to bring more quality to the squad. I don't see the point of recruiting someone who is not better than what you have available. This opportunity has not presented itself since I arrived at the club.