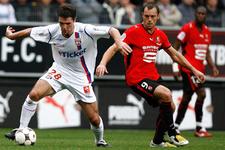 Read all the reactions of the OL players and staff after the defeat at the hand's of Rennes.
Jean-Michel Aulas
"Everything went wrong tonight and when you start of like that, it's never easy to get back into the match. There is nothing positive that can be taken out of tonight's performance. Rennes were better in all sectors, especially in their desire. I don't really have an explanation... Maybe it's the sea air as we lost here two seasons ago as well. Tonight was more than a defeat, it was a complete failure as we succeeded in nothing.I thought we might get back into the game in the second half but everything went against us."

Frédéric Piquionne
"Everyone is down tonight. The knocked us around and we didn't win a single duel, they really took us apart. We didn't show any of the form we have since the start of the season. We took a big knock tonight. Rennes played on Thursday in the UEFA cup, we should have been better than them physically. We're still top but the chasing pack are catching up. We'll have to get a grip and quickly."

Claude Puel
"First of all we should congratulate a Rennes side that put in a great performance, they were as solid defensively as they were flamboyant up front. Tonight we saw a great Rennes team but a poor Lyon side. It's difficult to lose without having the impression of being able to do something about it. We just weren't in the game, tonight we got what we deserved. Pagis really hurt us, he's an excellent player but we did leave him too much space."

Kim Källström
"We were poor, we've come away empty handed and it hurts. We just weren't good enough and Rennes took advantage of that. We've got 15 days now to see where we went wrong and make sure we learn from it and get back on track.

Ederson
"It's difficult to lose like that. We're all sad and disappointed. It's our first loss of the season and we will have to change that which went wrong. When we win, we win as a team, when we lose it has to be the same. We came up against a very good Rennes side. The forthcoming break will be good for us, we have to get back into training seriously and with desire in order to win the next match."