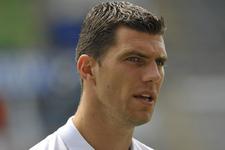 Rémy Vercoutre spoke out in the name of the squad about the threat of strike…
The OL goalkeeper , representative for the entire Lyon squad acting as the link with the UNFP delegates (Kastendeuch & Fluckinger), came to speak with the assembled Press.

Rémy how did the meeting with the UNFP representatives go?
« The movement is gaining solidarity in France, solidarity in the OL dressing room where the players are unanimously behind the movement. Just like the other clubs who have been visited by the UNFP delegates, we are ready to follow the movement. A strike? It just means that the team will not play; there will be no matches ».

Why such a movement ?
« We want to be respected by the League and to have representation. Why change a system that works. Our fear is to lose our representatives. We want to keep this representation so that if we have to make our voice heard, we can. Kastendeuch and Fluckinger met with Marino Faccioli today, it went very well ».

Do you not think that the movement could be badly received, especially if it finishes up with a strike ?
« Yes it could be badly received. It's up to the media to relay the message properly. It's not at all about the money; I repeat, it's a matter of principle ».