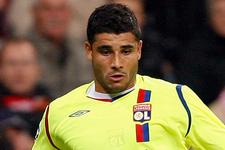 The Brazilian Ederson replied to questions from the Press after today's training season…
How are you feeling ?
« I'm still feeling a little ill (as he was in Munich). I treating it so that I can be in form on Sunday. Today training was specific for each player, apart from the obligatory 20 minutes jogging. It wasn't easy for me to come on during the game against Munich, it's not an excuse though. Bayern? We have some regrets as we could have taken all three points. In the 2nd half we backed off too much, which allowed Bayern to put us under pressure, even if we had the opportunities to score another goal. Everything hinges on the games against Steaua now ».

Sidney Govou's injury?
« First and foremost I am thinking about him. It's not easy for him. Afterwards, it's difficult to come into a game in that manner. The coach will decide who replaces him. I'm ready if he wants me to play. Do I have a preference? On the right or on the left, I have no preference ».

The match against Rennes?
« It's important to keep our good run in the League going and keep the chasing pack at arms length. It's never an easy game against Rennes. Will be watching their game against Twente. Our main objective is to win the League; to do that we have to stand up and be counted in each match. Let's keep the good run going ».

Did you feel there was a difference between the L1 and the Champions League?
« It's true that the Champions League is played at a different pace, with more quality. The slightest error can cost you. Every detail is important. But there are some good teams and players in the L1. The French sides mustn't go out onto the pitch in the Champions League thinking that they are weaker than their opponents. They have to have confidence, if not they are just making life difficult for themselves ».