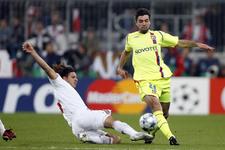 Fabio Grosso : It was important to get a good result; we managed to take a point and are happy enough. We haven't won yet in the Champions League, but more importantly we haven't lost. We are still on course for qualification. We put in a very good first half, during which we scored. To be perfectly honest I think a draw is a fair result. It's a very well balanced group. Tonight, the main thing was not to lose.

Jean II Makoun : We played well and are happy with the result, even if we did concede a goal. Ain the second half we were trying too hard and lost a lot of possession. We'l have to be careful about picking up yellow cards in the next few games or we could be in trouble.

Mathieu Bodmer : We were solid even if we did back off too much in the second half and lost possession too often. It allowed them to put pressure on us and, logically, equalise. We didn't put them under enough pressure and could have scored a second goal early on. It's a good point, but if you look at the game we could have gotten more. It's up to us to make the difference at home now. Bayern have a very athletic and powerful side they put in a lot of crosses and fill the box. There were a lot of aerial battles to be won. Klose – Toni, that's a solid pair up front, but we pretty much managed to keep them quiet. Hugo (Lloris) kept us in the game as well mind.

Jérémy Toulalan : If we'd been offered the result before the game we would have taken it. The result is the right one. We ran a lot but only managed to bring back a point.. We suffered in the second half as they put a lot of pressure on us. If we hadn't been to keen to get forward we could have maybe created more. It's going to be difficult to get out of this group.

Anthony Mounier : The Champions League is completely different from the domestic League, but I tried to do what I could. It's a shame we conceded as I think we could have won the game. Ribéry ? He's just back from injury but he's still quick. Whe you are a young wing player, someone like him is a model, he's always going forward trying to create …

Claude Puel : It's good that we got a draw. It was a solid, physical match. There were a few crucial moments, like when Karim (Benzema) had a chance to win it for us. We conceded too early on in the second half, and we dropped back too much which is a shame. Mounier allowed us to move back up the field and the few chances that he had nearly made the difference. There were some good moves, and a few of them could quite easily have finished up in the net. The team spirit is fantastic and we saw that again this evening; despite the difficult the players stood up to be counted.

Hugo Lloris : It's a positive result for us. There are lots of plus points to take out if the game, we did all we could to keep ahold of this result. This was my second match in the Champions League, in the group stage there are six, I have to learn quickly. I wasn't too far awy from saving their equaliser but we should focus on the solidity of the side. Bayerns forwards are exceptional, it wasn't easy for Cris and Bodmer but they put in great performances.

Ederson : It was a good physical match. Yes we have some regrets as we were leading 1 – 0 but taking a point home from an away game is a good thing. Now we will play two matches against Steaua Bucarest, we must take a maximum amount of points.

Juninho : We played well in the first half, in the second it was normal that Bayern came out pushing but we should have held onto the ball more. We are leaving with some regrets as we had a chance to win the game at the death through Karim Benzema. Bayern remain the favourites for the group, we have to go and win away from home to win some more points. I'm pleased with the team's performance, if we continue like that we shouldn't go too wrong.

Karim Benzema : It was a good game. Unlike the game against Barcelona last season where we sat back, we really played tonight and carved out chances, putting them under pressure. It's a shame we conceded as we had their measure. The main thing is that we are leaving Munich with a point and not a defeat. Anything is possible and qualification will not be easy to get. We have to make sure that we do not lose any games. Tonight we are pleased as we did not lose but disappointed as well because we could have won, we controlled the match but just couldn't get the ball in the net.