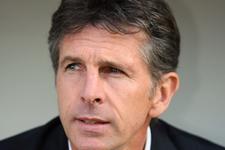 In their press conference, Claude Puel and Mathieu Bodmer spoke about the match between Bayern and OL 24 hours before the kick-off.

Claude Puel

Is this a pivotal game in this Champions League group?
All the matches are pivotal as the group is very well balanced. We're in Munich and we have to bring something back, try to play and stand up to be counted. This group will go down to the wire.

Are Bayern easier to beat at the moment?
A wounded animal is always more to difficult to overcome. We know that we are up against a team with character. Bayern are ready for the game, ready to play football and will be wound up for the match.

Is there a plan anti-Franck Ribéry?
We'll try and throw a lasso around him (jokes). Seriously though, if we want to keep him quiet it will come from a team effort. We know all about him, he is a great player who has an impact on games. I just hope he doesn't have too good a game on Tuesday.

Did you know that OL were on a run of 4 winning games in Germany?
I know, but I'm coming here for the first time. It's a new season, another match. It's an eternal beginning …


Mathieu Bodmer

Are OL favourites for tomorrows game?
No I don't think so. Bayern possess a great squad. The Champions League is something altogether different to the French League. It's a good chance for Bayern to get themselves going and really kick-start their season. We're here to take points, taking one would be good, but all three would be great. Obviously it won't be easy, but we have to come away from Munich with something.

What are the strengths of this Bayern side?
Bayern are very strong up front but we know that the Germans can concede goals as well. Our philosophy is not to concede any goals and remain solid. It could be a really open game, we all remember last season's games against Stuttgart. I don't know if tomorrows game will be the same …

How can you stop Franck Ribéry?
He is respected in France and will certainly haver some things to prove. You cannot let Franck build up any speed and turn you. A number of guys on our team have already been up against him, so they know what they have to do.