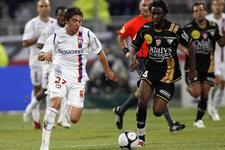 Reactions from players and staff after the match between OL and Nancy.
Claude Puel
We've taken all three points and carried things on after a good start to the season, these are reasons to be satisfied. We put in a good performance in the first half, it's a shame we didn't manage to capitalise on it, we then let them get back into the game. We showed two sides to our game which pleases me, the good first half and the solidarity in the second. The style is interesting, more than the formation.
Anthony Mounier? He's been a satisfaction since the start of the season. Lyon is a club that can bring through youngsters, that's great for the first team. He is more mature than some of the others, but we have some first class youngsters.

Anthony Mounier
We put in a good match. We managed to keep possession of the ball, to break them down, get past them and keep hold of the score in the second half which meant we kept all three points. From a personal point of view, I'm happy to be playing. We have a squad full of great players, I'm lucky to be playing and want to prove myself. It's true I get on well with Karim, but we have been playing together since we were 11 years old! We are starting to get to know each other! In any case, you always play better when you are alongside great players …

Jean-Michel Aulas
I've seen Karim, but we are waiting to hear from the doctor's. We hope it isn't too serious, he took a heavy knock to the ankle. He is optimistic, but we have to be careful, and wait for tomorrow. As for the match, we saw a very efficient first half where we scored two goals. We could have had more and not from free-kicks, for once! It was a very good first half. Then the coach managed to preserve his players and deal with the injury to Karim. That was difficult. Nancy will cause a lot of problems to a lot of teams.
Jean II Makoun
We played well and it's a shame that we conceded. Our first half was excellent and that is good for the confidence. It's good news for Tuesday as well, especially in the way we played. At 2-1 Nancy had nothing left to lose, but we managed to deal with them. We can be proud of ourselves, we put in the necessary efforts when we had to.

Ederson
We have a very important game on Tuesday, but today it was important for our confidence that we win. It was a lot more difficult after the goal that we conceded, but we have to keep going, we have to recuperate in view of Tuesday. We've had a good start to the season , but in football you always have to keep working hard. You have to keep your feet on the ground and keep on working.

Piquionne
We won, which is good for the future. When he brought me on the coach asked me to make the difference, to be competitive and to do my job! In the second half we kept things in control, we had to do it, win in order to boost our confidence and we did it! We should have scored a third to give us some breathing space but we managed things well in the end! It's true that we have a 6 point lead at the top of the table now but we have to keep working as in football things can change very quickly. As of tomorrow, what will be important is getting ourselves ready for the game against Bayern on Tuesday.

Fred
This goal has brought me a lot of pleasure. I needed it for me, for the supporters, who I hope are still behind me. More than anything it was important for my confidence.
My goal? It's 90% « Moun ». I was just there when he made the pass to push the ball home. It wasn't a fantastic goal but it was important.
Along with Karim, we had chances to score and every time we play together we feel that our understanding is getting better. It's good. I want to play, just like everyone else. We'll see for the game against Bayern, but whatever happens we'll all be ready for the team.

P. Berenguer
Our first half was a catastrophe. Before the match, we said we had to leave Gerland without any regrets. We gave them too much space and we weren't there in the duels. They were quickly up 2-0 and it could have been more. We managed to get a lucky equaliser. In the second half we maybe could have gotten something, but we often made poor decisions with our final passes. Just like each year, we are leaving here with regrets and Lyon with all 3 points!

A.Ouaddou
We had trouble getting into the game in the first half and Lyon managed to stamp their game on the match. We were better in the second half and managed to score after a movement of only three touches. We do have regrets though, it's always the same in Lyon. You have the impression of getting something and then lose all three points. They know how to hold onto a result. Lyon deserve to win this match.