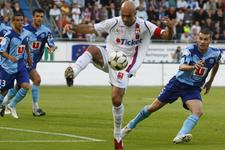 The Brazilian defender spoke to the gathered Press on Tuesday...
Cris, you were in the starting line-up on Saturday against Le Havre… Do you feel you put in your best performance of the season?
Yes, without a doubt. I felt good out on the field for the full 90 minutes. I still have work to do, but I think it's a good start.

How is your knee? We've heard a lot about it over the last few days …
It's fine! Let's just forget about it please! It's strong now, I've worked hard on it so let's not talk about it anymore …

How do you explain your dip in form since the start of the season?
I think I came back well after my injury at the end of last season, then along came the summer break. I went back to Brazil and made a complete break from football. I didn't put in any work and took advantage of seeing my friends. It was a mistake and I'm paying for it now, it won't happen again. I know I will be working hard during the next break we have …

Should you have done more weight training for example?
Yes, I did nothing over three weeks and I lost a lot of muscle around the knee. In Tignes my knee didn't support the amount of work we were doing, I should have worked more with Cybex. I spoke to the staff, we tried to and work out a programme, but it wasn't the same. When I got back to Lyon, I went straight back on to Cybex, and I'm starting to get back to my top level now …

Will we see the great Cris again?
I still have a lot of work to do. I also need to have a run of games. I'm not at 100% but contrary to what has been said I'm not at 50 or 60 % either... I'm lacking a bit of rhythm. But against Le Havre I felt that things were a lot better. Now I want to play and get back out into the fight!

And be in the starting line-up on Saturday against Nancy?
I'd like that, but it's up to the coach. I feel good and I'll be working hard during the week to be in the first eleven on Saturday. The coach will decide and I'll respect his choices even if it is difficult to be on the bench…

After Nancy, there will be the trip to Munich… After the draw against Fiorentina, what will OL's objective be in Bavaria?
A victory! Bayern are a huge club but we have to go there to win! We have to be in that frame of mind in any case. It's imperative in the Champions League. We love this kind of game. The Champions League is special … The atmosphere, the stadia, the teams … When you play in this type of match, you have only one desire … to give everything you have. But we mustn't forget the match against Nancy. It's just as important.

Do you think the OL side is even stronger again this year?
Yes. The group is very strong and well balanced. Each position has been doubled. The coach has multiple solutions for each match and the substitutes are in great form as well. We've seen that over the last few games, players can come on and change a match. Fred was very good against Nice; Piquionne was decisive away to Le Havre… Boumsong or Mensah have no hesitation about playing on the flanks … everyone is involved and the team spirit is excellent. It's very much in the image of the coach, who talks little, but has an incredible spirit and state of mind.