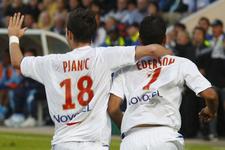 Jean-Michel Aulas, Claude Puel, Honorato Ederson, Miralem Pjanic and Jean II Makoun look back on OL's victory away to Le Havre.
Jean-Michel Aulas :
"We had a number of clear cut chances. Bravo to Claude who managed to rotate his squad and take a victory tonight against Le Havre. I think the team is remarkable as far as their potential is concerned. They are progressing and it's interesting as there has been a lot of changes. They have great morale virtues which allowed them to get back intot the games against Nice and Fiorentina, but also to hold on tonight at 10 against 11, after the sending off of Sidney Govou. Bravo to the referees who managed the game in difficult conditions. Bravo to Mr Kalt for his good game, he controlled both teams well."

Jean II Makoun :
"After the match against Fiorentina, we wanted to take all three points . After Sidney was sent off, we were down to ten and showed our character which is good for the future. There has been a lot of talk about our defence recently, but tonight we showed our solidarity in attack, midfield and defence.It's good that we didn't concede."

Pjanic :
"Today, I wanted to score . I hadn't played for a while and wanted to prove to the coach that he could count on me. I'm pleased with my performance even though I didn't manage to score or make a decisive pass. What is important is that we won."

Puel :
"It was a great match, again. In the first half we could have broke down the wings better, in the second half we played with our courage, and we could have scored more goals. We've had a great week with difficult matches, and to have won today with 10 men is a great performance. I want to congratulate the players who faught well . After two days rest, we'll have to throw ourselves into the preparation of the matches against Nancy, then Bayern."

Ederson :
"When you play up front, you always think about scoring. Today it was me who scored, but you have to congratulate the whole team . At 10 against 11, we were very strong, we put in a lot of work defensively and could have scored more goals. Personally I feel better and better, the staff have confidence in me and I'm happy."

Jean-Alain Boumsong :
"It was here at Le Havre, that I learnt my trade. I'm always emotional when I come back here and I hope that I can come back here frequently. Nothing has changed, they were happy to see me and I them. We knew that we were going to be up against a team that was looking for a match to use as a reference. We wanted to get back on a winning run . We're happy to have all 3 points, even if it was only through the smallest of margins."