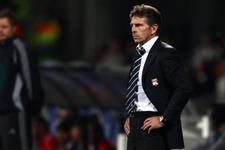 OL's coach held his traditional press conference...A look at the injury situation...a look back on the game against Fiorentina...
A word on the injury status :
« Fabio Santos is back training with the group. Kader Keita should join us in the middle of next week. Delgado has a slight groin tear, he should be out about 10 days. Fabio Grosso has 4 broken ribs. He is healing quickly and should start jogging on Friday. Clerc has been with us this week, but will continue his physiotherapy at Hauteville next week».

Have you watched the match again?
« Yes. My impression was the same as it was during the game. After a good start we conceded a goal like we did against Nice. It hurt. We lost track a little after that by trying to get back on level terms too quickly and being individualistic rather than playing as a team. The first half was difficult, our biggest challenge was to be strong in the second half. This match highlighted the differences between the League and Europe as far as refereeing and tackling is concerned. We took a lot of knocks ».

A word about the defence, the formation ?
« There is no building site as far as the defence is concerned, the building site is for the team. When we concede, it's because a succession of small errors which concern everyone. There have been individual and collective errors. In the 2nd half we played better as a team. The formation? Each different system is interesting. In the first half we didn't use the width of the pitch enough. We don't have a formation set in stone and it doesn't just revolve around the players out on the field. We won against Nice finishing up in a 4-4-2, as we did against Fiorentina on Wednesday night, after starting with a 4-4-3. One day it might be the opposite ».

Why Boumsong instead of Cris?
« I don't like commentating on my choices. If Cris had played, he would have had to play two matches in a row. It wasn't certain that he was up to it. There is no relation between specific players and results. Our debut to the season proves that ».

The trip to Le Havre?
« Following a Champions League game with a match against a newly promoted side is something that all top level clubs have to face. Le Havre will want to take advantage of the efforts we have had to put in recently. It's up to us to stand up and be counted, as always ».