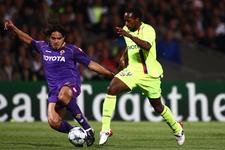 Reactions after the game against Fiorentina.
Frédéric Piquionne : By upping the tempo in the second half we knew that we could put them in difficulty. It's a shame that we didn't score first as I think that would have made it a totally different game. You have to admit though that their keeper was great. We've dropped two points here tonight so we'll have to go and pick them up away from home. We'll have to be more vigilant and stay focused in the future.

Anthony Mounier : We showed we have a lot of mental strength. We were 2 – 0 down, but managed to scrape a draw. If you look at how the match went it's a point well won. Being down at half time made things very difficult. I think we can have some regrets about the first half; they had two chances and scored twice, we had a whole load but were unable to capitalise. At half time the coach told us to play down the wings.

Jérémy Toulalan : If you just look at the first half, a draw is a pretty good result. We started off well enough and felt like we were in control, but it's often like this against Italian sides: you feel like you are on top and then they go and score. Tonight is a disappointment, even if we did react well in the second half. All the games are going to be difficult; in Florence we will have nothing to lose, I hope we can go there and get a result. For our first goal, we just followed the new rules which state that you must carry on playing if the referee has not stopped play. They then tried to wind us up but we managed to stay calm.

Claude Puel : We had to put in an awful lot of work in the second half in order to get back into the match, as we had penalised ourselves in the first half. The first goal, from their first chance, really hurt us as we'd started off brightly and had a few chances of our own. It hurt the players and it knocked us out of our stride, we lacked simplicity, we wanted to get back on level terms too quickly and ended up stuck in the middle of the park. At half time, we had to get back to basics; we did that well in the second half and were justly rewarded. To get back on level terms and put in such a performance in the Champions League is already something special. It's encouraging if you are looking for character and reactionary capabilities. We're going to have to stop using the combination we used for the second goal as everyone knows about it now. In the first half we had a number of good situations but we didn't vary our set pieces enough. That's something we focused on at half time.

Jean-Alain Boumsong : We've dropped two points tonight as we were playing at home but when you look at the physiognomy of the match, you have to remain positive, that it's a good point taken in difficult circumstances. Fiorentina were very realistic but we showed that we have our pride. In the next few games we are going to have to be proactive not reactive. Is it difficult finding automatisms at the back? It's not easy but what is sure is that every player wants to give everything he can. Only playing every two or three weeks is not easy, but there is a system in place and it's up to the players to adapt.