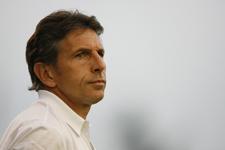 After the last training session before the Champions League match, Claude Puel faced the Press in the company of Jérémy Toulalan. Just the right time to remind everyone of OL's ambitions for this newest of European campaigns.
Claude Puel, how are you feeling before kicking-off the Champions League camapign with Lyon?
I'm very proud as this is a fantastic competition. I've been lucky enough to have taken part in it already with Monaco and Lille, I'm really happy to be able to continue the adventure with Lyon. Players and coaches all feel the same passion as we all enjoy playing these high level games. What's important is not just taking part, but winning the games.

Jérémy Toulalan, are Lyon in better shape for this seasons Champions League?
There is a lot more discipline in our play. We've only conceded two goals since the start of the season. But it is true that we're scoring less as well, we still have to find the right balance.

Claude Puel, what physical state are your players in after the difficult game against Nice?
I think they are over the Nice game now. It was necessary for us to recuperate as we put a lot of energy into the game. Even the guys who came on during the game put in a great deal of effort. But we did manage to recuperate.

Jérémy, what kind of match are you expecting tomorrow night?
Fiorentina are a team that likes to play, Italian clubs are very strong tactically. We're pretty used to clubs coming to Gerland and defending. I think it will be even more difficult tomorrow against Fiorentina. But we'll be giving everything we have in order to win.

Claude, there has been a lot of talk of Mutu and Gilardino, but it seems that Fiorentina will be counting on other offensive arms...
Fiorentina have a good number of attacking minded players. Of course there is Gilardino and Mutu but also Santana who is a player that can break through defences and make a difference with the ball at his feet. Fiorentina also have a hardworking midfield. They really are a team that plays good football and look well armed for this Champions League campaign.

To finish off Jérémy, who is your favourite for this Group F?
At first glance Bayern seem head and shoulders above everyone. We will be fighting it out with Fiorentina for second place. Believe me, we'll be doing everything we can in order to qualify for the last 16 this year.