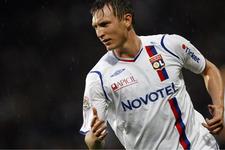 On Saturday, Kim Källström played a half against Nice. The Swede is delighted that the team "showed character" during the game. On Wednesday OL are at home to Fiorentina: "we have to start off well, so as not to go through the same trouble as last year" he warns.
Looking back, how would you analyse Saturday's game against Nice?
It was a strange match. We made a number of errors that we must avoid in the future, for example the mistakes we made which led to the first goal. It's true, we've conceded our first goals of the season, but it's not something to be concerned about. We've only conceded 2 in 6 matches.

What do you think of Cris's performances since the start of the season?
He was seriously injured last season and he needed a lot of time to recuperate. He cannot get back to his peak level straight away. He is very important to the squad, he is a character and that counts a lot in the dressing room.

How do you feel about your group in the Champions League?
It's a very well balanced group, even if Bayern are favourites. We need to remember the lessons we learned last year: the competition is short; you really have to start off well. We started poorly last season and it was a difficult task catching up. We don't want to go through all of that again. At the start of the competition, it's always the same, all the teams start with 0 points; we have to show from the off that we want to win the group, that we want to make the last 16 and make people respect us.

Do you know this Fiorentina side?
I know them well; they are a very strong side and will probably be that way for a long time. They have a number of great players like Mutu, Gilardino or Sébastien Frey. They have come from a long way back and are considered as outsiders like Steaua Bucarest. I think they are much stronger than the Romanians though.