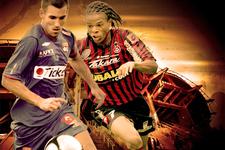 Trailing 2-0 after 20 minutes, OL managed to win the game against Nice thanks to two free-kicks from Juninho and a penalty from Benzema in stoppage time. A victory that puts OL top of the League, all by themselves.
OL are no longer the only team in the League not to have conceded a goal even if they still have the best defence (level with PSG). Bamogo (3rd) then Rémy (20th) took turns at putting the ball past Hugo Lloris. Along with an off target shot from the former OL player, they were the only chances Nice had; it was not enough for them to bring back, as they did last year, a point from their trip to Gerland.

OL had chances to score early on but Mounier, in the starting line-up for the first time in his career, on the left hand side of the OL attack, missed his close range effort (10th) and a curling shot from Ederson grazed the post (14th). The rest of the game was a succession of OL attacks on the Nice goal. First of all Jean II Makoun saw his efforts stopped by Letizi (33rd) then miss the target (34th).

Up stepped "Juni" with... a free-kick (40th), which allowed his side to go in at the break with only one goal to make up … which Fred came very close to doing from the off; his headed effort hitting the post (46th). Two minutes after coming on, Benzema came up short against Letizi (47th). On two occasions, Anthony Mounier fired in efforts that went over the bar (51st & 55th).

During a one-way second half, the Benzema - Fred partnership was working like a dream, pinning the Nice side down close to their goal. All the pressure had to finish off by paying...

After a long slalom in the Nice defence, Karim Benzema played in a cross along the goal line but nobody was able to capitalise on it (56th), the French internationals effort with the outside of his boot from the edge of the area wasn't any more successful (62nd). When OL did manage to get shots on target, it was Lionel Letizi who kept them out, pulling off miracle saves from two headed efforts by Makoun (66th & 78th) and palming away a powerful shot from Ederson (71st).

It seems quite a paradox that even if they had the most number of shots on goal (28 shots!), it was once again from set pieces that OL scored … with a hint of luck for Juninho's second goal. His free-kick from 40 metres out was destined for Frédéric Piquionne, but the striker didn't get a touch on the ball as it found its way into the back of the net (73rd).

After off target efforts from Mounier and Juninho (89th) and at the end of an intense and mad second half, a handball by Vincent Hognon offered a penalty to Benzema who scored his fifth goal of the season in the League in as many games (92nd). What a turn around!!!