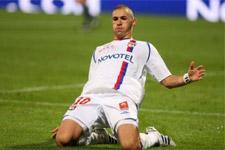 All the reactions after OL's game against Nice.
Karim Benzema : My penalty? I asked Juninho for the ball, I made him understand that I wanted to score tonight at Gerland. The fact that he let me take the penalty shows the confidence he has in me. It was all a bit hectic, which spices things up when you are about to take a penalty but it didn't affect my concentration. I didn't tremble.
We conceded two in the first half and were in difficulty. Thankfully Juninho helped us turn things around. We didn't give up and are happy to have taken all three points tonight. Playing alongside Fred? It's a pleasure, we complement each other well.

Jean-Michel Aulas : Maybe the goals were scored from situations that certain people will claim to contestable, but the fact is we had a lot more chances than Nice. I think we were taken aback as we were behind by 2 goals very quickly. It shows that we are mentally strong. We managed to score three goals even though we had been behind, it's good to know that we can turn situations around.
The referee has explained that he didn't feel that Fred Piquionne interfered with play for Juninho's second goal. Then for the penalty, the Nice player barely touched the ball with his hand, I'm sure we'll be hearing complaints from the Nice camp about that …
We saw a lot of good play during the match, especially from the players on the wings who tried a lot. What's more important is that we saw a team that refused to lie down. Karim's penalty is a good metaphor for the team. For a 21 year old player, taking a penalty in those conditions, with incidents created by the Nice players to make everyone wait before taking the penalty, is not easy at all. Very much in control of himself, Karim gave us the victory with this last kick. It's a good operation for us in the League.

Fred : I'm happy with the result and to have been back playing tonight as it has been a while, about 4 and a half months. I started getting cramps towards the end of the game. I'm satisfied with our performance and the victory. Karim (Benzema) and « Moune » (Anthony Mounier) are easy to get on with, and we find each other with ease on the field. We put in a lot of work tonight.

Hugo Lloris : We put ourselves in trouble through a lack of rigour. It wasn't easy for me; I had to stay very concentrated. We showed a lot of desire to come back. It would have been better if it had come about differently, we could have gotten back on terms earlier on in the game. The weather and the slippy pitch did not help us.

Loïc Rémy : I'd never been in the starting line-up at Gerland. It was strange to be out there in a Nice jersey. My goal? I was at the end of a long run and I tackled the ball to put it away. I didn't know if it had gone in or not. The match? You have to play this type of game in order to progress. There is a referee, we have to respect him, the game is over now, and we have to concentrate on the next one.

Cris : The start of the game was bizarre, maybe that's because of the week we have had in training without our internationals. It was very difficult for us. Thankfully Juninho got us back into the game. We pulled things back in the second half and the victory gives us confidence ahead of Wednesday's game. On Wednesday we will have to show the the same team spirit we had at the end of tonight's match. « Juni » scored his first 2 goals of the season in the League and helped us to an incredible victory.

Anthony Mounier : It was a strange match but it turned to our advantage , which is good for the team before the important match on Wednesday against Fiorentina. It's good for our confidence. I was very pleased to start the game and play the whole 90 minutes. Things went pretty well but I still have to progress a lot especially in front of goal. I'm going to keep working hard so that I can progress as much as is possible this season.