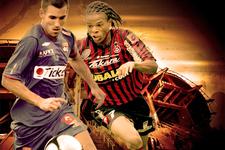 The 39th game between OL and Nice will be like a reunion of old friends. During the inter-season, Ederson and Lloris moved from Nice to Lyon and Loïc Rémy went in the opposite direction, with a certain amount of individual and collective success; OL are joint leaders and OGC Nice are at the foot of the podium (4th) they seem to have gotten over the departure of so many senior players (Ederson, Lloris, Balmont and Koné).

OL's international players will once again find themselves playing in the League after 10 days away with their respective national teams. What mental and physical state will Benzema (135 mn), Govou (172 mn) and Toulalan (180mn) be in after their participations in the two World Cup qualifying games with France, which saw them upset on and off the field? Kim Källström also played a lot with Sweden (174mn). Will the Swede once again step in to replace Fabio Grosso at left back as he did against St-Etienne? The injury suffered by the Italian against Cyprus gives Claude Puel an extra headache when he tries to make up his defence : which one of Källström, Boumsong, Kolodziejczak, Gassama or even Mensah will play on the left? With the main objective the midweek game against Fiorentina, how can they get a full tank of confidence without draining themselves physically? The objective is to beat Nice so as not to fall into a bad series, and a success would set them up ideally for their European campaign. On the domestic front, a win could also be a good result as Bordeaux and Marseille play against each other a little later on in the evening at the Stade Chaban-Delmas.

Fred could finally get a run out. On the bench against Saint-Etienne, after a month out through injury, the Brazilian could play in his first L1 match of the season against Nice. Another first could be the first appearance of Mensah in an OL jersey. Hugo Lloris will once again, and for more than one reason, be the centre of attention. Against his former team-mates, OL's keeper will be trying to prolong a run of 540 minutes without conceding in official competitions. For Nice, Lionel Letizi, seems to have found a second youth at the age of 35. He is charge of the second best defence in the League (2 goals conceded, behind OL who have conceded none) ; lst season, Nice were the only side not to concede a goal against the French champions (with two 0 – 0 draws). The other statistics, however, are not in Nice's favour; they have not beaten OL since 1995 and haven't won at Gerland since the 1972 – 1973 season.

With 6 matches in less than a month, including two in the Champions League, OL are going into, against Nice, a very important period of the season. After a two week break, a win would put OL on the right track.