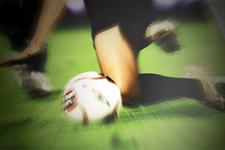 With the games against Nice and Fiorentina, do you feel like the serious stuff is starting?
We're starting with the League, that's a good thing as we'll have some rhythm for the Champions League game against Fiorentina (Wednesday the 17th of September). We'll have to lift our game against Nice, we haven't been playing too well recently, all this with the game against Fiorentina in the back of our minds. The Nice squad has changed a lot over the inter-season but they play well together and we've had trouble beating them over the last few years (at Gerland OL have beaten Nice twice in the last 6 seasons). We've started this season well, better than last season, we've found the team spirit that we were missing, whilst keeping everyone's individual qualities. I'm confident, I think the team is ready to kick off the Champions League campaign in style on Wednesday.

OL are missing a left back, is that a problem going into the Champions League?
It's annoying but you just have to deal with it, that's football ; we have 9 midfielders, 4 top central defenders, loads of forwards and in the only position we didn't double, the guy gets injured. Against Saint-Etienne, Kim (Källström) played well. At times like these it seems easier to play a guy with experience but I think a young guy like Gassama has shown his quality in the friendly games; there's also Boumsong.

Does Claude Puel ask for more defensive efforts than Alain Perrin?
No, on the contrary. Last season we ran all over the place and put in a lot more effort without the ball than today. We have to defend together and be more vigilant when we don't have the ball. Claude Puel is a coach that likes details. For him, a solid team starts each game with a point, that a game is much easier to win if you don't concede any goals. Obeying instructions is very important; talent is always there, we have players that can make a difference at any time.

Have you found the atmosphere has changed in the dressing room?
No, we are team-mates in the morning, then everyone goes off and does his thing. At Lyon, when we go out onto the field, we become brothers. Who cares about the atmosphere in the dressing room. We all work hard and have a competitive streak. The atmospher is the same as it has been for years and, on the pitch, the team still has the same values. The atmosphere, it's not a bunch of players partying but players who work hard together on the field.

How are you feeling going into the Champions League?
The first game will be very important; we have to take all three points. We know all about Italian sides, we've been knocked out by them before; the Italian players have a lot of experience who play like they are being dominated and then turn around and score, we'll have to be vigilant. Fiorentina have a good attack, they haven't played in the Champions League for a long time and will be wanting to show what they are capable of. Our group is difficult, if we manage to win our three home games, we'll have made a big step towards the next round. I dream about the Champions League. We must give our all to go as far as we can. Before I retire, I'd like to win the Champions League, but you can't have everything. I think we can do well but it's impossible to say if we can reach the semis or the final. The Champions League is my biggest dream; I wasn't in the Brazil side that were world champions in 2002, in 2006 we couldn't play together as a team, with Vasco de Gama I won a lot of titles, but what I am missing is winning the Champions League with Lyon so that I can go back to Tokyo to play in the Intercontinental Final, a game that I lost when I was at Vasco (in 1998). I live in hope.

What is your opinion of Hugo Lloris?
He's been playing well. It's not easy to replace Greg (Coupet), he was the best OL player over the last 10 years. Lloris has shown a lot of maturity and personality, he is calm and likes to work. It's normal that OL goalkeepers are good as we have Joel Bats one of the best goalkeeping coaches in France. Hugo has gined experience with the French national team and on Wednesday, in the Champions League, he'll have to keep his cool as it's just a football match, 11 guys against 11 others.

Since the start of the season, you haven't played a full 90 minutes, are you missing it?
When Alain Perrin was here, it was me that was asking to be brought off, I would have liked to have played every minute of all 4 matches we have had this season but the coach has taken me off in each of them. This year the club has great ambitions and a lot of players. If it will keep me in form throughout the season, if the coach thinks it will preserve me...People say it's been a long time since I scored, but it's been a long time since I played 90 minutes. We all know that it's in the final minutes of a game that the opposition starts to tire.