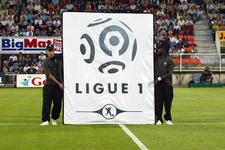 Game 5 in the L1 this week-end with two big games: OL – Nice and Bordeaux – OM… Elie Baup starts is career with Nantes at the Parc des Princes…
It's back to the League campaign after the International break and before the start of the European campaigns for 7 of the French sides (OL, OM, Bordeaux, Nancy, ASSE, Rennes, PSG).
Le Mans
, 2nd best attacking force in the League, have the chance to continue scoring points with the reception of
Toulouse
who will be without Berson.
Valenciennes
are switching between wins at home and defeats on the road. Playing Grenoble at home, the team from the north would at least like their home record to continue. Will
Grenoble
be able to continue their superb but surprising run of form?
Auxerre
got back against Lorient the 3 points they dropped to Nice. But they will have to watch out ,
Nancy
seem to have refound their form against Le Havre.
Rennes
brought back their first points from their travels with a point from their game against Toulouse. The Bretons are favourites against
Le Havre
who have lost three games in a row.
Monaco
have started the season poorly and lost badly against Grenoble.
Lorient
are in trouble with their weak attack and a defence that is much less watertight than in the past.
Bordeaux – OM
? A European level clash. Bordeaux are back at home where they have taken the totality of their points (6). To stay in contact, they know they have to win a third game. OM, still unbeaten, wil be without Ben Arfa. OM have the best attack in the League (11 goals) and a goalkeeper that can stop anything, thngs that can bring a team points.
Caen
lost at home to PSG. Their 2nd home game in a row needs to finish off differently.
St-Etienne
lost out in the derby and have not brought anything home from their travels yet. They will need to look out for a third defeat in a row …
Sochaux
only have one point to their name. It's time for them to kick start their season otherwise they could be in for trouble like last season.
Lille
won their first match in the last game. They will be handicapped, especially in defence, with the absence of a number of players. Finally
PSG
will be wanting to confirm their good start to the season. Paris can count on their solid defence but will have to do without Sakho, as he will be out for a number of weeks. Can Hoarau keep scoring goals?
Nantes
a starting a new era under Elie Baup. Do they have what it takes to get a result in Paris and get away from the foot of the League?
OL – Nice
Bordeaux – OM
Sochaux – Lille
Valenciennes – Grenoble
Caen – ASSE
Monaco – Lorient
Le Mans – Toulouse
Auxerre – Nancy
Rennes – Le Havre
PSG - Nantes