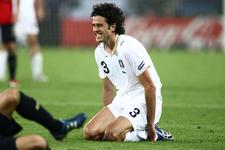 Claude Puel would have surely done without it; Fabio Grosso will be out for around a month, the Italian suffered an injury to his ribs in the 18th minute of the game between Cyprus and Italy.
« I spoke to him on the phone yesterday, he took a big hit during a duel in the air , states Bernard Lacombe. He was sandwiched between two players and one of the Cypriots hit him with his knee. » Outcome: two broken ribs.
OL's left back will be looked after up until Wednesday night, and the match between Italy and Georgia, by the Italian medical staff before heading back to Lyon for more examinations. « It's not a serious injury but it will be very painful for him to run and will hurt every time he moves , explains Lacombe. there's not a great deal we can do to treat it. It's just a question if time. »

The only problem is that it could not have come at a worse time for OL and the run of games they have coming up: in the space of one month they will be playing 6 matches : Nice, Le Havre, Nancy and Le Mans in the League, Fiorentina and Bayern Munich in the Champions League. « It's annoying to have to do without a player of his experience.It's not as bad an injury as the one's that Müller, Cris or Coupet had last season, but today's football is so demanding that you can't play a game with a player diminished like that ».

Last week, against Saint-Etienne, the Italian was suspended; Kim Källström filled in for him at left back. Will Claude Puel decide to continue with this choice? Will he decide to throw in a youngster (Gassama, Kolodzieczak)? Or will OL recruit a player on medical grounds? « I haven't had a chance to speak with Claude (Puel), confides Lacombe, we'll make a decision in the next few hours, knowing that any recruit would not be eligible for the Champions League. I think we will stay as we are . There is no point bringing someone in purely for the League campaign ».