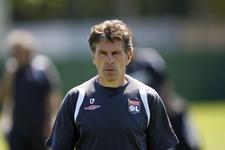 Claude Puel, who took part in the Elite Coaches Forum in Nyon yesterday and today, took this afternoon's training session.
The majority of players, including Cris, Mensah and Fred, did about an hours work on ball conservation and duels, finishing off with a game on a half pitch. Because of this , the three will not be taking part in the CFA match this week-end.

The young "pros" (Tafer, Mehamha, Pied and Gassama) who will be playing with the reserve side tomorrow away to Jura-Sud, worked on their technique and finishing before ending the session with a foot-tennis game.

Bodmer (calf) and Fabio Santos (cheek bone) ran with one of the club's physios, Abdel Redissi.
Ederson, who had been suffering form a sore ankle for the last few days, did some physical work with Guillaume Tora, who is filling in for Robert Duverne, as he is in Austria with the Fance team at the moment.
Joan Hartock, trained, despite his rib problem, with Gilles Rousset.