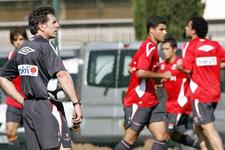 Before answering any questions, Claude Puel spoke about the injury situation: « Fabio Santos started running again today. Joan Hartock still can't "dive" but has put in a lot of physical work. Kader Keita has been in Africa for a few days and will start working on the bike soon. »

Have you organised a friendly match for the end of the week?
We tried, but couldn't get anything worked out. We're still searching but don't have many possibilities. I wanted to get a foreign team so that the players would be up against players that they didn't know.

How are you going to deal with this international break?
It's never easy during these moments as they break the team's rhythm. We can't do any tactical work, afterwards I'll have to get everyone ready for the game against Nice even though certain players will have played a lot for their National sides, and others will have had a 2 week break. Lots of things can be lost in two weeks. It'll be important to get everyone back together so that we can move forward.

What is your analysis after the first month of competition?
We've progressed with each match. But we're in limbo for the moment: will we still be in the same form after the break? Will we have lost things that we had started to take for granted? Will we be able to bring something extra to the team? The match against Nice will be a good test for us.

Are there any areas that do not have you convinced?
We've taken a maximum number of points, that's already a good thing. Slowly but surely our performances are becoming more and more solid, we are muuch more consistent. We can still lift our level of play: we often develop good movements but not over a long period of time. We are solid enough over the course of a game but we stil have room for progression. We have to work on things so that they become second nature.


Have you started focusing your work on the Champions League?
For the moment we are collecting information, but the players will be working on the Champions League after the game against Nice (Saturday the 13th of September).

You will be taking part in a the Forum of Elite Coaches, which will take place on Thursday and Friday at UEFA headquarters in Nyon. What is the objective of such a meeting?
It's the second time that I will be taking part. It gives you a chance to swap ideas with your colleagues from elsewhere in Europe. On one side it's fun but there is a lot of work done as well.

The fact that you didn't sell any players and brought some in, is that a problem?
Everyone is finding their feet. There is competition for places, but we want it to be healthy competition, and that everyone feels implicated. It won't be easy on a day to day basis but a player that just accepts that he will not be starting is not a competitor and as far as I'm concerned not a professional. You always have to strive to be better and to win a place in the starting line-up. The number of places is limited so everyone has to give everything they have. We're going to be playing every three days, so we will need everyone.

What stage is John Mensah at?
If we don't manage to play a friendly game, we'll see if he puts in a heavy training session or if we put him into the CFA side for their game on Saturday.

And Cris?
His knee is just about back to full strength. He is well balanced, which wasn't the case at the start of the season. His progression will continue over the next two weeks.