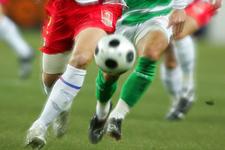 Beyond the usual stakes of the derby, St-Etienne and OL would both like to know where their teams are at before the first break of the season and before a month of September that will see both clubs play in Europe...
Claude Puel admitted it during his press conference: « this is the first real test of the season for both sides ». This derby is about much more than regional supremacy. Certainly, St-Etienne are chasing a first win in 14 seasons, 17 matches without a victory; OL on the other hand want to see the run continue. If you add to that the two sets of supporters then you have all the ingredients for a superb evening.

This season, the match has other interests as well . It comes just before the first break in the 2008-2009 season. It is also just at the right time for a first real test. Both sides have different ambitions, but neither of them has come up against a « big side » in the first 3 games. Even if OL are unbeaten, with 7 points from a possible 9 and have not conceded any goals, the seven times French champions still have not put in a great performance. «We have to be more consistent from the start to the end of a game. At the same time, it's normal … ». Claude Puel whilst satisfied with his side, knows that they can do much better. He is expecting to see more progress at Geoffroy-Guichard.

Saint-Etienne's 2 defeats 1 - 0 against Valenciennes and Le Mans and the short victory 2 - 1 against Sochaux haven't satisfied anybody. Laurent Roussey has been vocal in his disappointment … as if he wanted to touch his side in their pride before the much awaited derby. St-Etienne, unlike OL, did not lose any of their players over the summer break. The only absentee will be Sall, who is suspended, which can be considered a negative point. ASSE need to settle themselves by taking some points from this game. « The derby has come along at just the right time... our mentality will make the difference … ». Landrin declared on the club's website. The mentality which will allow them to go beyond themselves and cause an upset.

The OL coach knows that everyone is lying in wait for his team, that the atmosphere will be electric. Thye will have to be careful at the start of the game as St-Etienne will surely come out of the blocks at breakneck speed and have a very performant offensive line up with Feindouno and Gomis... The OL defence, so effective since the start of the season with 0 goals conceded, will be able to show off their abilities. What side will Claude Puel put out? Apart from 3 incertitudes, the team is well known. Who will come in for Fabio Grosso at left back ? Who will be alongside Bodmer in the centre of defence ? And who will accompany Govou and Benzema up front? It is difficult to imagine that the former Lille coach would change a system of play that he has used since his arrival at the club.

Regional supremacy … 3 points up for grabs… 90 minutes in which we will see the form of the moment and it's possibilities … All this adds up to an exciting 96th derby...