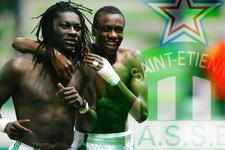 Saint-Etienne have not started their League campaign off well. Finishing in fifth place in the League last season, they came into the new season with legitimate ambitions....
Saint-Etienne will be making a return to European competition in a few weeks time, the fruit of a good 2007-2008 season. Few players have left the squad in the off season, the new recruits (Monsoreau, Sauget, Matsui, Grax, Machado…) coming in to strengthen the group … and Luc Sonor, a new face on the bench has come in to assist Laurent Roussey.

After 3 games, the « Greens » haven't set the League on fire; 2 defeats 1 - 0 away from home (at Valenciennes and Le Mans); one win 2 - 1 at home to Sochaux. They have taken 3 points from a possible 9.

2 goals scored ; Feindouno from a penalty and Matuidi. 56 shots.

3 goals gonceded including one penalty. 34 shots.

5 yellow cards : Gigliotti, Dabo, Matsui, Landrin, Talvaridis.

18 players used. Viviani, Tavlaridis, Monsoreau, Dabo and Feindouno have played all 270 minutes of the season. Gomis, Dernis, Matsui, Payet and Matuidi have taken part in all 3 matches.

Sall is still suspended.

30 895 spectators were present for the game against Sochaux.