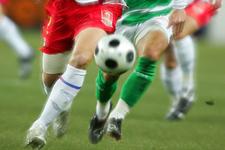 OL had a tough time last season...Saint-Etienne almost won after 16 games without success in this famous derby...
17… 17 encounters between the two neighbours that St. Etienne have not managed to win: 9 at Gerland and 8 at Geoffroy-Guichard. Their last victory dates back to the 6th of April 94 at home (3 - 0 with 2 goals from Mendy and 1 from Despeyroux).The run includes 9 OL victories including 2 in St-Etienne and 8 draws with 6 coming in St-Etienne.

Of the players still wearing the two clubs colours , Benzema (1), Govou (1), Källström (1), Juninho (2) have all scored for OL at Geoffroy-Guichard. Gomis (2), Feindouno have done the same for St. Etienne.

Who could live their first derby ? Sauget, Matsui, Grax, Machado, Gigliotti for St. Etienne. Lloris, Boumsong, Pjanic, Ederson, Makoun, Gassama for OL.

Piquionne (OL) and Monsoreau (ASSE) have been through the derby wearing the opposite shirt.

Claude Puel will be living his first derby from the OL bench. He will be faced with his former assistant from Lille, Laurent Roussey who has taken control of his side in 2 derbies so far.