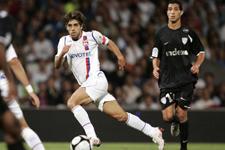 Jean II Makoun, Mathieu Bodmer, Juninho and Claude Puel speak after OL's 2-0 victory over Grenoble.
Jean II Makoun : My main job is to defend but I already had a habit of scoring goals from set pieces when I was a Lille. On the whole, I am pleased with the welcome I have received from my teammates at Lyon. I feel great here, and seeing the work that they put in during training, I can see now why OL have been French champions for the last 7 years.

Mathieu Bodmer : It's good that we didn't concede any goals. We put in a very good first half performance and scored quite early on. In the second half, we managed to play the ball around a bit more and create scoring opportunities. Thanks to Juninho, we are very performant from set pieces and that bodes well for the future of the season.

Juninho : The fact that we win a lot of free kicks means that the forwards are doing their job. This season, we have a lot of players who attack the ball well in those situations. I think we still have room to progress, we have to try and maintain the same level of play throughout the whole match. In the second half, Grenoble were in better form, the match was more balanced but we could have scored more goals.

Claude Puel : We managed the game well in the first half against a very dynamic Grenoble side. It's a shame that we didn't manage to score any more goals, as it would have rewarded the hard work put in by the players. It was interesting for me to have been able to change our formation and some players, whilst keeping the same quality of play. In the next match away to St-Etienne, we will, above all, have to concentrate on our play .