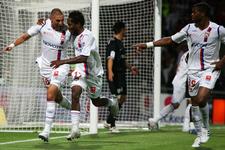 OL won their derby against Grenoble 2-0 on Saturday night at Gerland, thanks to goals from Jean II Makoun and Karim Benzema,preparing in the best possible way for their trip to Geoffroy Guichard and the derby against St-Etienne next Sunday.
Olympique Lyonnais started this derby in the best possible manner. As early as the 6th minute of play, Jean II Makoun pened the scoring with a header from a Kim Källström corner. The Cameroon international popping up again with a header to match the one he scored in the 1st game of the season against Toulouse, quietening the 1800 Grenoble supporters presents in the stands at Gerland.

The match was on and the two neighbours procured a number of chances during a very animated 1st half. On a number of occasions, Daniel Moreira managed to get past the OL defence, thanks to his runs into space. But often pushed out wide on the left, the shots of the Grenoble player hardly worried Hugo Lloris.

In his first match in the starting eleven for OL, Frédéric Piquionne came close to opening his account for Lyon in the 12th minute. Played in deep by Kim Källström, the former Monaco player say his powerful shot saved by the feet of Grégory Wimbée. After a number of dangerous efforts from Ederson and Benzema, OL finally managed to double their score after 30 minutes. The inevitable Karim Benzema, who scored during the week with the National side, lurking after a free kick from Juninho, scored his third goal in 3 games, from close range with his left knee . Despite a last half-volleyed effort from Kim Källström just before half time, the score did not change, OL heading to the dressing room with a 2 goal lead.

The second half started with a lightening quick counter attack by Grenoble started off by Laurent Battles who played in Feghouli down the centre of the park, but the midfielder pushed his ball a little too far and ended up colliding with Lloris. Lyon were still dominating but Grenoble had their tails up, and the duels became more intense.

Lyon replied in the 67th minute with a huge chance for Karim Benzema who took advantage of a poor clearance to fly past the last Grenoble defender. He was unable to beat Wimbée though, but Gerland was enjoying the show.

Towards the end of the game, the rhythm dropped, OL playing out time with their advantage, allowing Claude Puel to bring off Juninho and Karim Benzema. Lyon winning the game against the surprise L1 leaders, at the same time keeping a clean sheet. Ideal preparation for the next derby game away to St-Etienne.