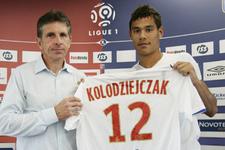 Claude Puel answered questions from the Press 48 hour before the match against Grenoble.
Grenoble are the leaders, how are you approaching this game?
It's not surprising that they are in front. It's the start of the season, the newly promoted and teams that are expecting a difficult season put a lot of effort into their first games by preparing well and being physically fresh. We have to be careful and concentrated as we have had a week that was disrupted by international matches. Some players shone for their national teams and are starting to hit their peak condition; the only problem is that some of them played the full game for their respective countries.

You will be playing two derbies in a row, that's unusual here ?
I haven't been through that here yet. I've been through a few Lille-Lens derbies which weren't bad but apparently it's something very important here. As coach I have to look at the games and whether or not we are in form and showing what we are capable of doing, whether it be a derby or not, even if a derby game is always a bit different. There is always that bit more motivation from all quarters and that's good as it will remind us we have to be ready against Grenoble and Saint-Etienne.