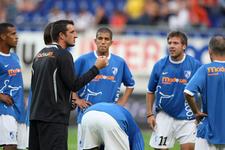 Grenoble have returned to the L1 after an absence of 46 years… They have 6 points after two games and are top of the League…
Their recruitment was based on experience, bringing in players like Ronan Le Crom (33 years old and 152 matches in L1), David Jemmali (33 years old and 296 matches in L1), Laurent Battles (33 years old and 337 matches in L1), Daniel Moreira (31 years old and 350 matches de L1), Laurent Courtois (30 years old)… Vitakic and Wimbée both played at Lille for Claude Puel.

The squad hasn't changed much compared to last season with, once again, a lot of experience : Wimbée (37 years old and 245 matches de L1), Flachez (36 years old and 253 matches de L1), Vitakic (31 years old), Regragui (33 years old), Robin (31 years old), Akrour (34 years old)… They do, however, also have some promising youngsters in Feghouli, and Dja-Djedje…

The group is coached by the former Bosnian international Mecha Bazdarevic, a midfielder whose career took him to Sarajevo, Sochaux (from 87 to 96)… and 60 international caps. Mecha has already coached in L1, in the 2004-2005 season with Istres.

The newly promoted side have started their season well : 2 matches and 2 victories (against Sochaux 2 - 1 and Rennes 1 - 0). 3 goals scored : Akrour 2 goals, Moreira 1. 1 headed goal, 1 goal from outside and 2 inside the penalty area. 1 penalty missed against Rennes by Feghouli. 1 goal conceded : 1 headed goal.

3 yellow cards : Feghouli, Ravet, Vitakic.

16 players used.

On 2 occasions, Grenoble have visited Gerland in the First Division. They have one draw 1-1 and one win 1-0 under their belts. These games happened in the 1960-61 & 62-63 seasons. By beating Sochaux, Grenoble have taken their 3rd victory in D1/L1 (against Lyon and Rouen in 62-63).