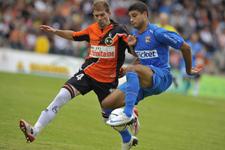 Claude Puel, Juninho, and Ederson look back on Lyon's 0-0 draw with Lorient. Jean-Michel Aulas also talks about an eventual recruit at left back.
Claude Puel : "The team put in a good performance, controlling the first half and finding a lot more space in the second. It was very difficult to get past the block that Lorient put between us and their keeper; we did however manage to create a few chances, but weren't very successful and were also up against a very good Fabien Audard. The rhythm of the match dropped towards the end of the game. I'm a bit frustrated that we did not win when you look at the performance of my players, but satisfied by the game as a whole."

Juninho :" We had quite a few chances from set pieces but were lacking a little success. I think it's difficult as it's the start of the season; we're lacking automatisms and concentration at certain moments. But against Lorient, who always start the season well, we put in a good quality shift."

Ederson : "I'm very happy to have started the game. We played well, creating a lot of chances, but the ball just didn't want to go in. We have to keep working as it's just the start of the season. It's important to be solid in defence and not to have conceded any goals."

Jean-Michel Aulas : "We're looking at a young player from Lens to come in and help out Fabio Grosso on the left but Lens are asking for a little too much money. If their position has not changed in the next 48 hours, we could start looking for a top level player who can play on either flank."