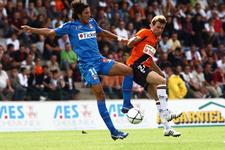 On Sunday afternoon, OL were held to a 0-0 draw by Lorient. Despite a solid performance, Claude Puel's men were unable to finish off their chances, but once again kept a clean sheet.
At the start of the game, the strikers didn't really have the opportunity to shine. As Claude Puel expected, Lorient are well drilled , close down high up the field, and stopped OL playing their game.
Slowly but surely, however, OL managed to camp in the Breton half of the field and were able to create a few chances from set pieces. In the 24th minute, a corner from Juninho was flicked on by Sidney Govou at the near post, the ballon flew across the face of Fabien Audard's goal Karim Benzema, who came up too short was unable to push the ball home . 4 minutes later, Sidney Govou beat two players down the right hand side of the pitch and found Honorato Ederson at the near post, but the Brazilian recruit messed up his effort.
At the end of the first half, Lorient were racking up fouls around their penalty area and Juninho try to take advantage of this. In the 31st minute, his effort was pushed away by Fabien Audard from the feet of Fabio Grosso who tried to volley the ball home. The Italian's shot was deflected by the tip of Karim Banzema's foot but Lorient's keeper was able to push the ball over the bar.
Just before half time it was Ulrich Le Pen who just missed out on opening the scoring . After a free kick that went very close to OL's goal, Kevin Gameiro pulled the ball back but Le Pen was unable to hit the target from 6 yards out. Lyon had quite a scare, but the score at half time was 0-0.

At the start of the second half, it was OL's turn to have a great opportunity. Juninho fired in a fantastic free kick which crashed into the crossbar , the ball then dropped to Karim Benzema who fired off an acrobatic effort but, again, Audard pushed the ball over the bar. Two minutes later, Govou played Juninho in down the line, the Brazilian made the effort to get to the ball and play in a cross, Sylvain Marshall tackled and very nearly put the ball past his own keeper.
In this second half, OL's forwards were able to advantage of the extra space made available to them but without any success .

Despite Frédérique Piquionne, Kim Kallström and César Delgado coming on, the seven times French champions were unable to win their second game of the season, but leave the Moustoir with the satisfaction of having put in a solid performance , and to still not have conceded the slightest goal in an official game so far this season.