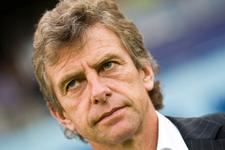 Lorient started off their season well, winning 1-0 away to Le Mans...Their squad has not changed a great deal during the summer transfer market...
Gourcuff's men finished the 2007-2008 season in 10th place with 52 points, the second worst attack (32 goals scored, with 14 from Saïfi, 7 from Vahirua…) and the 5th best defence (35 goals conceded). The summer market has not seen any great changes at Lorient : Amalfitano, Gameiro, Le Lan… have arrived ; Hautcoeur has gone back to St-Etienne, Bouhrani left for Vannes… Vahirua is still recovering from his operation on the achilles tendon. Stability is the order of the day at Lorient.

The pre-season preparation for FC Lorient Bretagne Sud? 2 training camps (at Etel and Carnac), 7 friendly games (2 wins, 2 draws and 3 defeats; 7 goals scored and 7 conceded).

In their first match of the League campaign, Audard and his teammatesbeat Le Mans 1-0 thanks to a penalty from Jallet. 1 goal from 12 shots. Le Mans had 53% of the possession and shot on goal 10 times. 2 yellow cards for the Bretons : Namouchi and Jouffre. 13 players were used with Amalfitano and Robert coming on for Le Pen and Namouchi.

Lorient have started their fifth season in L1, their 3rd in a row. Against OL at the Moustoir, Lorient have suffered 3 defeats and won 1 game: 98-99, Lorient 0 OL 1, 2001-2002, Lorient 0 OL 3, 2006-2007, Lorient 1 OL 3, 2007-2008, Lorient 2 OL 1. Ciani and Vahirua x 2 were the goal scorers.

Their coach Christian Gourcuff played for Lorient (82 - 86). He is starting his 19th season on the bench of the club … 19 seasons in 3 stages: 82 - 86, 91 - 2001 and since 2003. He has 145 L1 games under his belt.