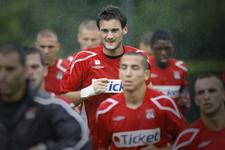 After the day's training session, OL's goalkeeper spoke about his call up to the French side for the game against Sweden.
What was your reaction to your call up to the National side?
You can only be happy. For a footballer it's a great reward, especially when you aren't expecting it. It's very encouraging but it doesn't change anything, we'll keep on working as I'm always looking to progress and before the National side we have a game away to Lorient to prepare for. I didn't think I would be called up so quickly. There were a number of keepers ahead of me in the pecking order, it's happened quicker than expected and that is good for me. Now I just have to take full advantage of the situation and carry on working hard. It's great to be involved, to be able to take part and show what we can do in training.

What do you think about the fact that Gregory Coupet was not called up?
I don't know what the reasons were, maybe because the League he plays in has not kicked-off yet. We'll see what happens afterwards.

You aren't really heading into the unknown as you were part of the group that got together last March?
Yes. It's good because I'm in continuity here, even though I didn't think it would happen so quickly. Last time helped me meet and get to know the players and it can only help me to be playing alongside the top French players. The day I signed for Lyon, I knew that I hadn't made a mistake. You cannot control everything in football and I have to take what I get as a reward and savour it.