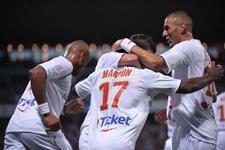 The reactions from the OL camp after the game against Toulouse.
François Clerc : It was a good start to the season, physically and technically we were good. We are only going to get better now, so this season could see some great performances from us.
We knew it was important to score first. We kept them quiet in the first half, they tired in the second and we managed to extend our lead.

Jean II Makoun : Thankfully for me, and the team, we opened the scoring quickly. Afterwards we stayed solid and focused, especially at the start of the second half. I'm happy with my performance and that of the team. It's up to us to keep this solidity and efficiency in the coming games. We know it's going to be difficult, but we're ready. We know we can achieve a lot if we play collectively as we did this evening.

Jean-Michel Aulas : It was a good performance as far as the quality of play that was deployed, as far as the result was concerned and the attendance as well. The team was well organised, concentrated and was playing good football. There is a great team spirit at the moment. We have a few small injuries at the moment, but when you see the quality of the new recruits like Makoun, Lloris, Pjanic, or the entry of Frédéric Piquionne, it's very pleasing. OL are already at the top of the table, which is great. That we are in first place, even though everyone said we were going to be in difficulty, makes me very happy.

Hugo Lloris : It was great to be playing on the new surface at Gerland, and everyone could see that. We played with a fluid, attacking style. We controlled the game, without being put in any danger. All went well tonight: we kept a clean sheet and scored three goals, it bodes well for the rest of the season. Now we have to advance, we have a big game coming up against Lorient where it is never easy to win. Personally, I think everything went well and I felt good. At the start of the season you have to build up your confidence and try to be as efficient as possible. But we are jus tat the start and there are a lot of games to go, work to be done and lessons to be learned.

Frédéric Piquionne : I'm really happy to have been able to make my debut for OL. When I came on the game was already over, so I tried to do what the coach had asked me, to put their defence in difficulty. My integration at OL has gone really well, everyone has been great with me. Physically, I still have a lot of work to do, especially as there is a big game on the horizon at the end of the month...

Claude Puel : With an extra weeks work, we say a much more capable team than the one that went out in the Champions Trophy game. Not everything was perfect, but starting off the season with a win like that is a good thing. We started off well, but tried a little too hard after the goal and we were lacking a little simplicity in our play. It was then important to find a little fluidity and then the goals came by themselves as we let the ball to the running and we were well in place. There is still room for a lot of progression: physically for a start and we have a lot of work to do as there are certain things that have to be improved. Karim (Benzema) was very efficient from the three shots he had, we need to give him more scoring opportunities. What was good tonight is that we stayed organised, even at 3-0 up. We could even have had more control over the game and created more chances. Juninho? He was very efficient, but we can take more advantage of him within the game; if we play with more fluidity and simplicity, we'll be able to get the ball to him more often.
August is going to be a difficult month for us as the teams we are going to be playing are more ready than we are and will be looking to take points from the big sides, who aren't fully operational. We'll have to be careful.
The injury to François Clerc is annoying. He has a slight strain to the ligament in his knee. We'll be able to see in the next few days just how long he will be out.

Fabio Grosso: We tried to put a lot of intensity and aggressivity into the start of the match and tried to score quickly. We're happy, but it's only the first game of the season. If we play as a team, things will be much easier. Another satisfaction is that: we didn't concede any goals. We defended as a unit, everyone making the necessary sacrifices in order to recuperate the ball and move forward.

Juninho : We've been working on set pieces since the training camp at Tignes and in every training session. Tonight, we were well balanced, we didn't allow Toulouse many chances, but we can't get carried away. It's just a good victory which will allows us to prepare for the game against Lorient, the game away to them was very difficult last season. With the confidence we have gained this evening, we should be able to put in a good match. Yes we are in first place, but you have to remember that last season we won our first game and then went on to lose against Toulouse and Lorient. This season is going to be difficult; we have to keep working hard.