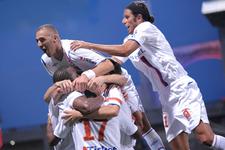 OL didn't waste anytime in retaking their place at the top of the League. Thanks to their win (3-0) over Toulouse, Juninho and his teammates in 1st place after the first game of the season. Makoun opened the scoring, Benzema going on to score two more goals.
Olympique Lyonnais didn't have to wait too long before getting back into their position as leaders of the L1. Thanks to their victory over Toulouse (3 – 0), Juninho and his teammates are in first place after this first round of games; with two bits of good news, Karim Benzema is already topping the goalscoring charts and Juninho, was involved in all the good plays and was decisive this evening . Up to there it is pretty much status quo. What is different, however, is that over the ninety minutes, OL did not allow their opponents too many chances, in fact you could have counted them on the fingers of one hand.

In a few weeks, the centre of defence could be completely different, with both Mensah and Cris due to be coming back. In the meantime, against Toulouse the duo of Boumsong and Bodmer were rarely in trouble : on one occasion Boumsong left Gignac free; the former Lorient players shot was saved by Lloris (30th). At the end of the game, Réveillère was beaten to a header by Bonnet without any consequences (68th). For the rest of the time, OL's defensive block that is so dear to Claude Puel, systematically broke down Toulouse's attacking capabilities, certainly they no longer had Johan Elmander available, but OL managed to reduce Capoue, Mathieu, Ebondo and Sirieix to long range efforts (37th, 44th, 57th & 80th).

The defensive rigour did have an effect on OL's attacking propensity, even if theyy had made their task a little easier by opening the scoring early on. Juninho's absence against Bordeaux in the Champions Trophy game, made a big difference on the attacking front. Once again an opening came from a free kick, which OL's captain placed onto Jean II Makoun's head (12th).

In open play as well, the Brazilian often made the difference, slicing the defence open with his passing and finding space behind the Toulouse midfielders. It was from one of these accelerations in the midfield that came OL's second goal. Govou finding Benzema in the box who ended any hopes that a poor Toulouse side had (57th).

Game, set and match. Especially as Juninho did not stop there , dropping a corner onto Boumsong's head; after this effort hit the bar, the ball dropped to Karim Benzema who headed home(67th). The score could have been a lot heavier if Govou, ideally played in by Benzema, had managed to hit the target (52nd), if Carrasso had not saved a freekick from Juninho (54th), or if Ederson had managed to get ahold of his shot properly (92nd).

Conscientious and well positioned, Lyon spent the majority of the final 30 minutes nullifying any attempts from Toulouse to approach their goal. The season has started perfectly for Claude Puel and his players.