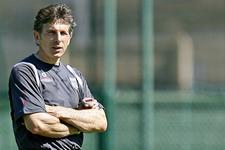 Claude Puel had his traditional press conference 48 hours before the match…
Claude, how are the injuries looking ?
« Ederson, Juninho and Piquionne are all available. Mensah, Fred, Keita are getting back into training. Fabio Santos is recovering from his operation. Piquionne, just like Cris, still has to build up his muscles after the operation he went through though ».

What is the team spirit like after the defeat in the Champions Trophy game and just before the season opener against Toulouse ?
« We're not dwelling on that defeat. Physically we couldn't match Bordeaux who were ready both physically and mentally. This last week of training will be profitable, even if we won't be at 100% of our capabilities. We'll be able to compensate, I hope, for that with our team spirit, solidarity, agressivity and concentration ».

EWill the month of August be difficult for the team to deal with ?
« It won't be easy for them as there is only one game per week, so there will be fewer turnovers in the playing staff. What is important is not to lose the players mentally. Afterwards we will be able to make changes more frequently. The first few games will be delicate as we won't be able to play everybody ».

Are are you going to be making your choices during this period ?
« I'll be taking into consideration the level of preparation the players have had, but that only concerns the internationals, who came back after everyone else. Physical form will be the decider. »

Have you looked at Toulouse and do you, generally, take into consideration your opponents ?
« I mainly concentrate on my team, our style of play, I look at the team and individuals to see where we can progress. The opponent? Of course we study them, so as not to be taken by surprise. We kept an eye on Toulouse during their friendly games. We know about them, even if we aren't focusing on them. OL have to play their game, first and foremost. At Monaco, I concentrated entirely on the play of my team. At Lille, I started off by continuing what they were used to, dealing with the opposition first before trying to impose our own game over the seasons. I look at what my opponents have done over the last two or three games; that says more than where they are in the league standings … »

Toulouse ?
« They are a solid team with a good defensive block. They propose a good style of play. The lack of experience of their coach will not be a handicap ».

OL's coach also answered questions about Lloris and Pjanic.
« Lloris, he is very serene; which is important for the team. My only worry was how he was going to react after being out for three months with a broken hand. It's good to see him playing at this level; he is working very hard with « Jo ». I knew all about him. He is a goalkeeper that I appreciate; he is talented and works hard; he is still young but has already shown great maturity. Can he carry on where Coupet left off? In France, he was the only real option. Yes, I would have chosen him, as a matter of fact; I did voice my own opinion on the matter. »
Pjanic ? « He has shown that he is at the same level as the others. He is young but mature. You wouldn't think he was as young as he is ».